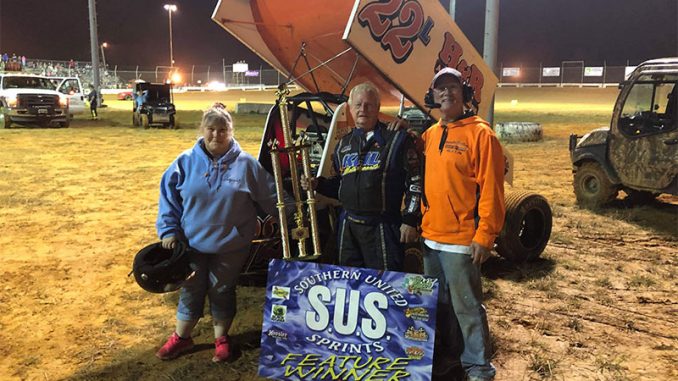 GLENMORA, La. (March 9) – Kent Lewis Sr. won for the first time in 1968, at the beginning of a racing career that now spans six decades.
His most recent checkers came Saturday night, when the Southern United Sprints traveled to Thun­der Valley Speedway.
"I went shopping around and found the sweet spot. My car was superb right in the middle," said the 71-year-old Lewis, who started sixth and took the lead following a restart just before halfway. "It seemed like everybody else was running high or low."
Rod Craddock ended as the runner-up and Tyler Harris completed the top three in the IMCA Rac­eSaver Sprint Car headliner at Glenmora.
"Winning (tonight) was super special. When I saw the white flag I was able to take a breath. The hardest thing to do in a race is lead," Lewis said. "Most of the guys I'm racing with, I raced with their dads. It's been a while since I won a feature but I still have fun going to the races every Satur­day night, whether it's spectating or competing."
Feature results – 1. Kent Lewis Sr.; 2. Rod Craddock; 3. Tyler Harris; 4. Caleb Padgett; 5. Johnny Brown; 6. Steve Holland; 7. Tommy Hall; 8. Theresa Waller; 9. Cody Hall; 10. Todd Bliss; 11. Marcus Thomas; 12. Jacob Harris; 13. Beau Smith; 14. Blake Cunningham; 15. Michael Oli­ver; 16. Butch David; 17. Thomas Johnson.