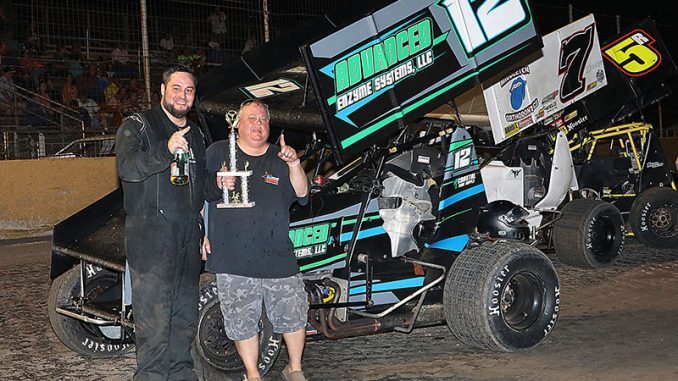 BEAUMONT, Texas (May 26) – Trey Schmidt added a third Kent Lewis Classic trophy to his collec­tion, following a Memorial Weekend Southern United Sprint feature that was probably a little more exciting than he would have liked.
After starting fourth and leading much of the way in the Sunday IMCA RaceSaver Sprint Car show at Golden Triangle Raceway Park, Schmidt saw Rod Craddock slip by on the inside and take away the front spot.
The two tussled the next three times around the oval, with Schmidt regaining the lead and holding on for the win, his second of the season, despite hitting an infield tire.
"There are about three or four big events during the year that you always want to win," said Schmidt, "and this is one of the biggest."
He'd also won a pair of non-wing Lewis Classics.
Craddock and John Ricketts chased Schmidt across the stripe.
Feature results – 1. Trey Schmidt; 2. Rod Craddock; 3. John Ricketts; 4. Bobby Middleton; 5. Dustyn Welch; 6. Brandon Anderson; 7. Tyler Harris; 8. Thomas Johnson; 9. Theresa Waller; 10. Michael Oliver; 11. Kent Lewis Sr.; 12. Trey Burke; 13. Caleb Padgett; 14. Chris Hinson; 15. Mark Har­ris; 16. Derek Begnaud; 17. Jacob Harris; 18, Daniel King; 19. Cody Hall; 20. Kent Lewis Jr.