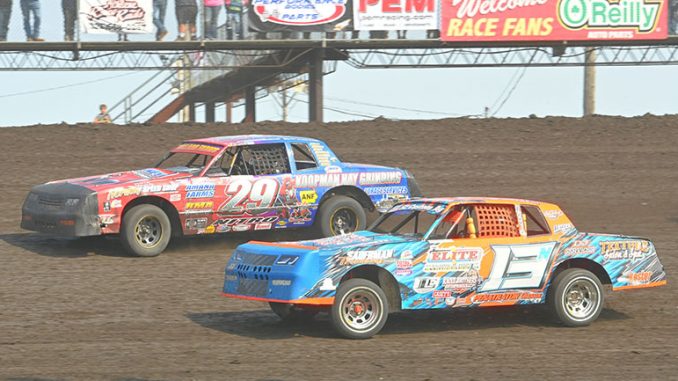 BOONE, Iowa (Sept. 13) – Nathan Ballard was impressed by the competition when he won his qualifying feature to make the Hobby Stock main event at the IMCA Speedway Motors Super Nationals fueled by Casey's.
Then he impressed everyone at Boone Speedway by leading all 30 laps of Sunday's $2,000 to win main event.
The Super Nationals crown was Ballard's career first and came after a season that had seen him make just 18 weekly starts.
"It's kind of hard to believe. To win an 'A' main and get into the dance, you have to race against so many good drivers," he said, pointing out that the competition got even better in the main event.
Ballard was chased early by defending champion Dylan Nelson. The green flag stayed out the last 24 of 30 laps and Ballard eased away from all challengers, leaving Nelson, two-time champ Jason Wilkinson and Jeff Ware to fight for second behind him
The three ran in that order before Ware eked ahead for third on the last lap.
"I wanted to get to the top right away. I ran a higher line that most of the rest of the cars," said Ballard. "It was definitely the fastest way around the track."
A five-time main event qualifier, Ballard didn't run the Wild Rose Casino Prelude and was making his first start of the season at Boone. He came to Iowa's Action Track well prepared for the week after having secured a career fourth title at Benton County Speedway.
"We had a good car all week," said Ballard, who won the Tuesday qualifier to start at the front of the middle row. "This was a big win for our program. There are a lot of ups and downs in racing, sometimes hardships. If it was easy, everyone would be doing it."
Eric Stanton moved up 20 positions start to finish, while Dawson Deboer was a plus 18, Matt Olson plus 13 and Shaun Wirtz plus a dozen.
Stanton started his career 11th main event while Jason Kohl qualified for the ninth time, Jesse Vanlaningham for the seventh and Brandon Nielsen for the sixth. Ware and Sal Hernandez were also five-time qualifiers.
Eleven drivers made their first appearances in the Big Dance with Mike Smith's fifth place showing leading the way.
Feature results – 1. Nathan Ballard, Marengo; 2. Dylan Nelson, Adel; 3. Jeff Ware, Columbus, Neb.; 4. Jason Wilkinson, Neligh, Neb.; 5. Mike Smith, Lake City; 6. Kaden Reynolds, Cedar Rapids; 7. Dawson Deboer, Little Rock; 8. Eric Stanton, Carlisle; 9. Brandon Cox, Norwalk; 10. Wayne Gifford, Boone; 11. Jake Benischek, Durant; 12. Jesse Vanlaningham, Beatrice, Neb.; 13. Malik Sampson, Worthington, Minn.; 14. Matt Olson, West Fargo, N.D.; 15. Chuck Madden Jr., Avoca; 16. Darin Johnson, Dickens; 17. Shaun Wirtz, Boone; 18. Zach Hemmingsen, Marne; 19. Parker Larson, Granada, Minn.; 20. Carter Koop, Rockwell; 21. Braden Richards, Madrid; 22. Jason Kohl, Missouri Valley; 23. Keeran Sampson, Worthington, Minn.; 24. Josh Barnhart, Colby, Kan.; 25. Cody Nielsen, Spencer; 26. Sal Hernandez, Columbus, Neb.; 27. Eric Knutson, Slater; 28. Brandon Nielsen, Spencer; 29. Brett Vanous, Quasqueton; 30. Jacob Floyd, Cedar Rapids.