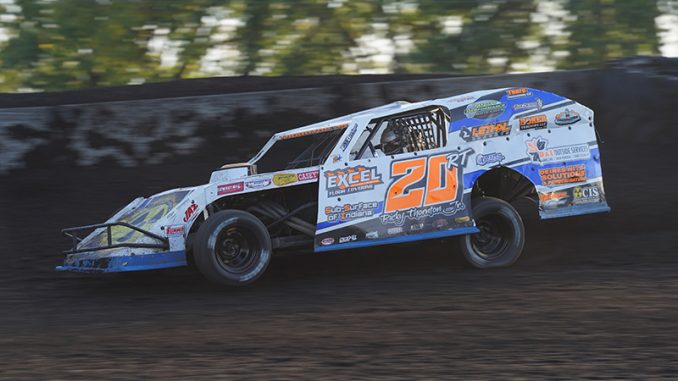 BOONE, Iowa (Sept. 13) – Ricky Thornton Jr.'s race to the IMCA Speedway Motors Super Nationals fueled by Casey's record book began on Monday and ended Sunday, with another visit to victory lane in between.
Thornton became the first driver in the 38-year history of dirt track racing's biggest event to win two championships at the same Super Nationals, the Late Model feature on Labor Day and the Modified feature on Sunday at Boone Speedway.
He passed Cody Laney in lapped traffic on the 24th of 40 laps, then checked out on the way to the $7,000 win in the final event of the week.
"This track really suits my driving style and we've been very successful here. We work hard and our equipment is always well prepared," said Thornton, also winner of Saturday's Fast Shafts All-Star Invitational. "I flipped in my (Wednesday) Stock Car heat and that was really the only bad luck we had all week."
Defending champion Ethan Dotson led the first two laps before giving way to fellow Californian Laney.
The only cautions of the contest came on laps eight and nine. Thornton restarted second both times and stayed close to the leader until his opportunity came after midway, using the higher line in his move to the front.
It became Laney's turn to pursue and he was able to stay close before Thornton got lapped cars ahead in the final 10 circuits.
Behind Thornton and Laney, Dotson, Tom Berry and 2007 champion Todd Shute completed the top five.
"It's always special any time you win at Super Nationals because there are so many good cars here in every division," said Thornton, whose first Modified title came in 2016 and who repeated as Late Model champion. "Our goal coming here this year was to win the All-Star race because it's an event where we've struggled in the past. This was just a great Super Nationals for us."
A dozen drivers made career-first main events starts with Jeff Larson's sixth place showing the best among them.
Joel Rust nabbed hard charger honors, finishing a plus 19 after starting in the last row. Jordy Nelson moved up 14 spots, Grey Ferrando 11, rookie Jake McBirnie 10 and Tanner Black and Clay Money both nine.
Troy Cordes made his career 15th main event start, 2010 champion Jimmy Gustin his 14th and Shute his 12th.
Fourteen states were represented in the Modified Big Dance.
Feature results – 1. Ricky Thornton Jr., Adel, Iowa; 2. Cody Laney, Torrance, Calif.; 3. Ethan Dotson, Bakersfield, Calif.; 4. Tom Berry, Des Moines; 5. Todd Shute, Norwalk; 6. Jeff Larson, Freeport, Ill.; 7. Nick Meyer, Whittemore; 8. Tanner Black, Otis, Kan.; 9. Grey Ferrando, Stayton, Ore.; 10. Trent Loverude, New Ulm, Minn.; 11. Joel Rust, Grundy Center; 12. Anthony Roth, Columbus, Neb.; 13. Troy Cordes, Dunkerton; 14. Kyle Heckman, Bakersfield, Calif.; 15. Zane DeVilbiss, Farmington, N.M.; 16. Justin O'Brien, West Union; 17. Jake McBirnie, Boone; 18. Chris Elliott, Abilene, Texas; 19. Jordy Nelson, Marysville, Kan.; 20. Matthew Meinecke, Jamaica; 21. Zachary Madrid, Phoenix, Ariz.; 22. Clay Money, Penokee, Kan.; 23. John Parmeley, Phoenix, Ariz.; 24. James Goodson, Little Rock, Ark.; 25. Jesse Skalicky, Fargo, N.D.; 26. Jimmy Gustin, Marshalltown; 27. Nick Roberts, Des Moines; 28. Clay Hale, Cameron, Mo.; 29. Richie Gustin, Gilman; 30. Chris Abelson, Sioux City; 31. Darron Fuqua, Mayetta, Kan.; 32. Steven Bowers Jr., Topeka, Kan.; 33. A.J. Ward, Ionia, Mich.