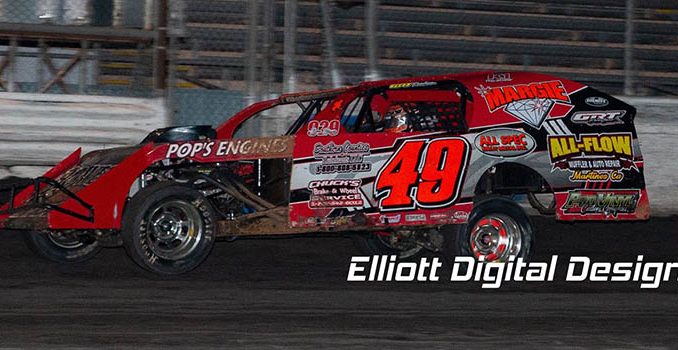 By Stephanie Deatherage 
PETALUMA, Calif. (Aug. 11) – The second leg of the California IMCA Speedweek presented by Hoppes Motorsports saw Troy Foulger parked in victory lane following the Modified main event at Petaluma Speedway.
Foulger picked up $1,000 and a Fast Shafts All-Star Invitational ballot berth for the big win atop the 3/8-mile adobe clay oval.
The third starting Foulger had been quick to the lead and stayed in front through long green flag action. Lapped traffic did become a factor but Foulger avoided all obstacles on his way to the check­ers.
Paul Stone again charged out of a "B" feature, started last in the main and rocketed to a second-place result. Night one winner Bobby Hogge IV placed third while fourth went to New Mexico stand­out Zane DeVilbiss.
Veteran Paul Gugliomoni was fifth via a consolation feature.
In the Karl Kustoms Northern SportMod main event, Garrett Jernagan picked up from where left off from the previous evening
This time the Bakersfield driver seized the lead on the initial start, mastered each restart and didn't encounter lapped traffic until late in the race.
A final caution waved to give him an open race track to work with. On the ensuing restart Jerna­gan motored away to a second straight $750 California IMCA Speedweek victory.
Brentwood ace Fred Ryland ended the evening in second over Kc Keller.
The Petaluma show attracted 50 IMCA Modifieds and 29 Karl Kustoms Northern IMCA SportMods.
Feature Results
Modifieds – 1. Troy Foulger; 2. Paul Stone; 3. Bobby Hogge IV; 4. Zane DeVilbiss; 5. Paul Guglio­moni; 6. Robby Sawyer; 7. Kellen Chadwick; 8. Jerry Flippo; 9. Ryan Daves; 10. Brian Cass; 11. Bobby Motts Jr.; 12. Jake Pike; 13. Christopher Sieweke; 14. Trevor Fitz; 15. Jeffrey Faulkner; 16. Tim Yeager; 17. Vinny Raucci Jr.; 18. Cody Burke; 19. Bill Wilker; 20. Nick DeCarlo
Northern SportMods – 1. Garrett Jernagan; 2. Fred Ryland; 3. Kc Keller; 4. Jason Bannister; 5. Todd Gomez; 6. Brent Curran; 7. Jarrod Mounce; 8. Matt Micheli; 9. Tanner Thomas; 10. Tre­vor Tiffee; 11. Chase Thomas; 12. Ryan DeForest; 13. Kenny Shrader; 14. Kelly Campaline; 15. Vaughn Vondera; 16. Doug Hagio; 17. Kyler Reynolds; 18. Kenny Neu; 19. Cory Hemphill; 20. Tyler Thomas.