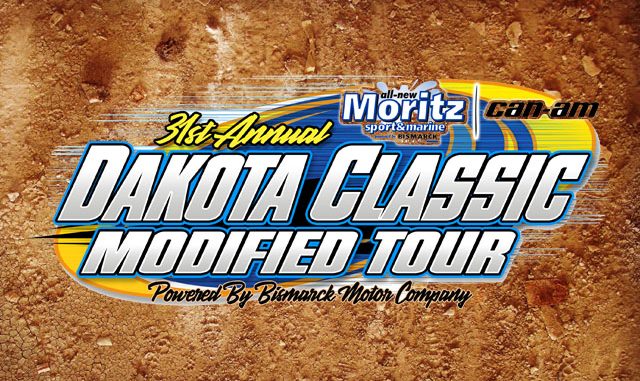 JAMESTOWN, N.D. (July 11) – Runner-up Billy Kendall III was the talk of the town Saturday night at Jamestown Speedway.
Kendall raced from 10th starting and battled Jeff Taylor and Jacob Bleess before chasing Jake O'Neil to the checkers in round two of the Dakota Classic Tour for IMCA Modifieds.
Wheeling a home-built car, Kendall swapped the second with, and then had the former tour cham­pion close behind as he pursued O'Neill. Blees ended in fourth, Kelsie Foley fifth.
A lap 16 restart opened the door for Elijah Zevenbergen to continue his winning ways in the IMCA Sunoco Stock Car half of the tour.
Zevenbergen caught Eric Mahlik on the way to collecting his second straight tour checkers of 2020. Matt Speckman would end in second, Mahlik in third.
Feature Results
Modifieds – 1. Jake O'Neil; 2. Billy Kendall III; 3. Jeff Taylor; 4. Jacob Bleess; 5. Kelsie Foley; 6. Jason Wolla; 7. Austin Arneson; 8. Alex Stanford; 9. Casey Arneson; 10. Tanner Black; 11. Ricky Thornton Jr.; 12. Collen Winebarger; 13. Eddie Belec; 14. Grey Ferrando; 15. Shawn Strand; 16. John Corell; 17. Travis Hagen; 18. Spencer Wilson; 19. Zachary Madrid; 20. Robert Hellebust; 21. Mar­cus Tomlinson; 22. Justin O'Brien; 23. Greg Gustus; 24. Quentin Kinzley; 25. Jason Grimes; 26. Shane DeVolder; 27. Tripp Gaylord; 28. Travis Olheiser; 29. Brad Hartigan.
Stock Cars – 1. Elijah Zevenbergen; 2. Matt Speckman; 3. Eric Mahlik; 4. Angel Munoz; 5. Joe Flory; 6. Todd Heinrich; 7. Tripp Gaylord; 8. Travis Ulmer; 9. Brennan Borg; 10. Cody St. Croix; 11. Mike Hagen; 12. Adam Goff; 13. Andrew Jochim; 14. Dalton Flory; 15. Chanse Hollatz; 16. Keith Mattox; 17. Derrick Kronbach; 18. Taylor Willms; 19. Jordan Zillmer; 20. Jake Brown; 21. Chad Hunteman; 22. Beau Deschamp; 23. Rick Schulz; 24. Kevin Roberts.