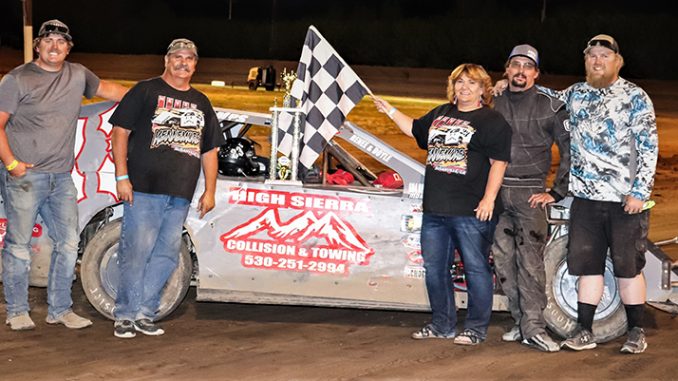 By Stephanie Deatherage 
SUSANVILLE, Calif. (July 3-4) – Nevin Kennemore cashed in with his first IMCA Modified feature win of the season while Nick Trenchard returned to victory lane for a big win of his own on night two of the Independence Weekend special at Diamond Mountain Speedway.
Kennemore led al 25 laps of the Friday feature, earning a career-best $1,500 payday and a spot of the Fast Shafts All-Star Invitational ballot. After seeing a sizable lead erased by a late caution, his win came ahead of Mitch Murphy and Alec Childs.
Already an All-Star candidate, Trenchard started fifth and had to hold off Ryan McDaniel and Cory Sample for the $2,000 checkers. The win was his second this season at Susanville.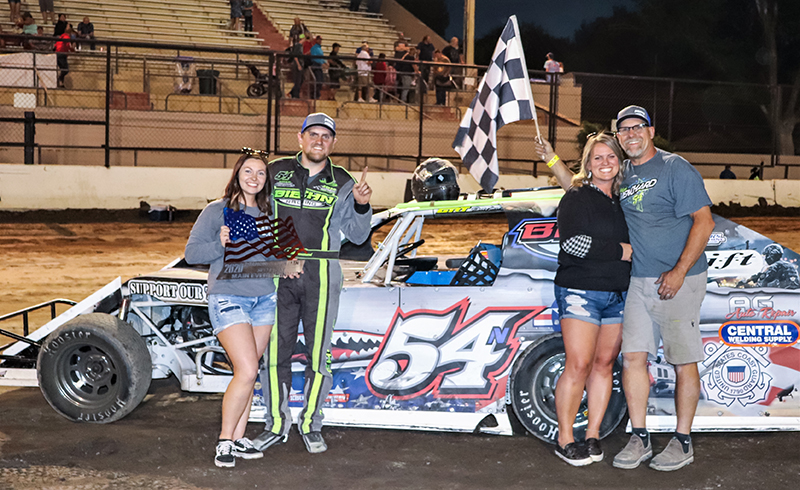 Nick Trenchard, already on the Fast Shafts All-Star Invitational ballot, banked $2,000 for his July 4 IMCA Modified feature win at Diamond Mountain Speedway. (Photo by Shawn Castillo) 
Craig Nieman and Keith Foux were Karl Kustoms Northern SportMod winners.
On Friday, Nieman parked his machine in the winner's circle following his first triumph of the cur­rent campaign, good for $500. Foux and Tyler Rogers rounded out the top three.
Foux scored the rich $1,000 win on Saturday in his son Justin's ride, in only his second night in the car. Timothy Allerdings was the runner-up while third went to Nieman.
July 3 Feature Results
Modifieds – 1. Nevin Kennemore; 2. Mitch Murphy; 3. Alec Childs; 4. Cory Sample; 5. Trevor Fitz-Gibbon; 6. Ryan McDaniel; 7. Shawn Natenstedt; 8. Jimmy Lipke; 9. Riley Simmons; 10. Ga­len Hainline; 11. Ray Lindeman; 12. Danny Lauer; 13. Jeff Faulkner; 14. Chris Nieman; 15. Matt Murphy; 16. Wade Kennemore; 17. Cole Jones; 18. Jeff White; 19. Larry McCracken; 20. Dave Sciarroni; 21. Scott Foreman. 
Northern SportMods – 1. Craig Nieman; 2. Keith Foux; 3. Tyler Rogers; 4. Colton Chew; 5. Rich­ard Longacre; 6. Nathan Howard; 7. Kelly Kennemore; 8. Dennis Crook; 9. Ryan Belli; 10. Scott Foster; 11. Colby Russell. 
July 4 Feature Results
Modifieds – 1. Nick Trenchard; 2. McDaniel; 3. Sample; 4. Simmons; 5. Natenstedt; 6. Nieman; 7. Lauer; 8. Faulkner; 9. Nevin Kennemore; 10. Royce Goetz; 11. Matt Murphy; 12. Wade Kenne­more; 13. Fitz-Gibbon; 14. Sciarroni; 15. Lindeman; 16. Rob Robles; 17. James Welshone; 18. Foreman.
Northern SportMods – 1. Foux; 2. Timothy Allerdings; 3. Nieman; 4. Jimmy Ray Huffman; 5. Crook; 6. Jason Ferguson; 7. Longacre; 8. Chew; 9. Kennemore; 10. Foster; 11. Rogers; 12. Jer­emy Phillips; 13. Russell; 14. Belli.