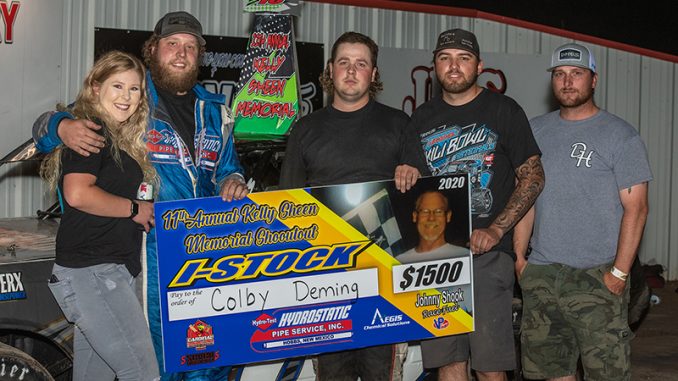 EUNICE, N.M. (July 4) – Colby Deming got the IMCA Sunoco Stock Car win he's always wanted Saturday night. 
Deming led all 30 laps of Cardinal Speedway's Kelly Sheen Memorial Shootout, taking home $1,500 along with the prestigious checkers.
"This is a win I've wanted since I got in a Stock Car. It nice to finally get it," said Deming, runner-up in the 2017 race and fifth last year. "I kept my car straight and clean and got the job done."
The win was the third this year for Deming, a two-time track champion at Cardinal now in his 13th season behind the wheel of the Hydrostatic-owned ride.
He crossed the stripe ahead of Caleb Stone, fresh off a $1,250 IMCA Modified victory, Don Sheen, Jeremy Bradley and Josh Cain.
Stone, the 2018 track champion at Eunice, came within a whisker of duplicating his Modified-Stock Car sweep from the previous weekend at Abilene Speedway.
His Cardinal checkers put him on the ballot for the Fast Shafts All-Star Invitational.
"We've qualified on the pole and come close to winning this a couple times but never pulled it off before," Stone said. "We had a pretty fast car, kept 'em at bay pretty much all night and were able to pull it off."
Colin Deming stayed close the first half of the race before ending in second. Toby Herring, multi-time race winner Neal Flowers and Zac Mason completed the top five.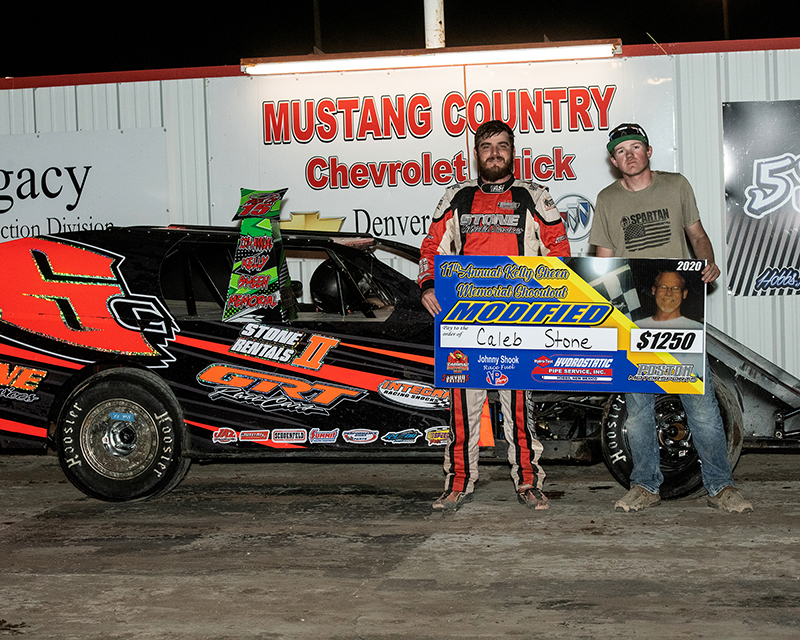 Colby Deming led green to checkers in winning Cardinal Speedway's Kelly Sheen Memorial main event for IMCA Sunoco Stock Cars. (Photo by Bobby Thomas) 
Bradley Poor's Sheen Memorial career third Smiley's Racing Products Southern SportMod victory paid $1,000 while Cameron Martin's IMCA Sunoco Hobby Stock win was worth $550. 
The Sheen winner in 2014 and 2015, Poor finally got some real estate on Jason Mendoza and Justin Shaw following the last late yellow.
"I love this track," he said. "We always have a lot of fun and we have a lot of good memories from here."
Bailey Cooper was fourth and Kevin Ward fifth.
After a caution on the initial start, the Hobby Stock feature clicked off 20 quick green flag laps with Martin scored first across the stripe on each of them.
Martin had swept May 29-30 features at Cardinal and followed with a photo finish win ahead of Cutter Spalding in the Friday qualifier.
Kenneth Seay chased Martin into lapped traffic and finished second. Spalding, Wesley Mayer and Ashton Hayes were third through fifth, respectively.
Feature Results
Stock Cars – 1. Colby Deming; 2. Caleb Stone; 3. Don Sheen; 4. Jeremy Bradley; 5. Josh Cain; 6. Jack Miles; 7. Michael Sheen; 8. Rob Moseley; 9. Austin Huskey; 10. Travis Sutherlin; 11. Carbie McClearen; 12. D.J. Werkmeister; 13. Allen Bradley; 14. Mark Lord; 15. Shawn Ritter; 16. Tommy Fain; 17. Steffan Carey; 18. Chance Brown; 19. Larry Bradley; 20. Mack Seay.
Modifieds – 1. Caleb Stone; 2. Colin Deming; 3. Toby Herring; 4. Neal Flowers; 5. Zac Mason; 6. Vince Ogle; 7. Kevin Brown; 8. Kade Ogle; 9. Brian Ray Flowers; 10. Tyrone Yazzie; 11. Roy Don Mason; 12. Michael Maraschick; 13. Jamie Newton; 14. Danny Patterson; 15. Jim Sikes Jr.; 16. Mike Powers; 17. Dean Deming; 18. Robbie Daniels; 19. Joel King.
Southern SportMods – 1. Bradley Poor; 2. Jason Mendoza; 3. Justin Shaw; 4. Bailey Cooper; 5. Kevin Ward; 6. Tony Spencer; 7. Tyler Cook; 8. Terry Owen; 9. William Beckham; 10. Ryan Wilkerson; 11. Christopher Stewart; 12. Justin Thomas; 13. Linc Fuller; 14. Justin Guffey; 15. Aaron Childress; 16. Jackson Harpole; 17. Rodger Pierce; 18. Tyler Rose; 19. Tim Welch; 20. John Reid; 21. Mark Patterson.
Hobby Stocks – 1. Cameron Martin; 2. Kenneth Seay; 3. Cutter Spalding; 4. Wesley Mayer; 5. Ashton Hayes; 6. Matthew Machen; 7. Chris Dosher; 8. Kevin Griffin; 9. Jeremy Sprinkle; 10. Nathan Machen; 11. Mark Turner; 12. Don Jones; 13. Harley Harkness; 14. David Males.