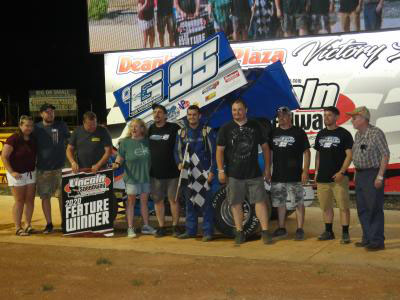 By Frank Buhrman
ABBOTTSTOWN, Pa. (July 4) – Approaching his first anniversary as a Pennsylvania Sprint Series competitor, Garrett Bard collected his eighth series victory Saturday at Lincoln Speedway.
It might have been the toughest, as the IMCA RaceSaver Sprint Cars provided fans with a full July 4 fireworks display on the track.
Bard took advantage of a front-row starting spot to lead all the way in the 20-lap feature, but the last half of the event featured perhaps the most torrid challenges to that lead Bard has had to turn back.
Third starting Doug Dodson spent most of the race in the runner-up spot but really turned up the heat just past halfway, trying a slide job on lap 12 and several more afterward, one of which briefly put the no. 20 in the lead, only to have Bard execute a cross-over and retake first.
Dave Brown had started 12th and was running third by lap 16 in what became a three-way battle for the lead.
For the last three laps, it was anybody's race, but even with two more experienced racers on his tail, Bard refused to fold and came home with the win. Dodson held off Brown to finish second.
Bard now has eight wins, four second-place finishes, and three other top fives since his first RaceSaver start at Path Valley Motor Speedway last July 13, when he came home 10th.
Next Saturday, PASS will return to Selinsgrove Speedway to be part of the Sprint National Open evening. On July 18, they will be at Port Royal Speedway for the first night of the rescheduled Bob Weikert Memorial.