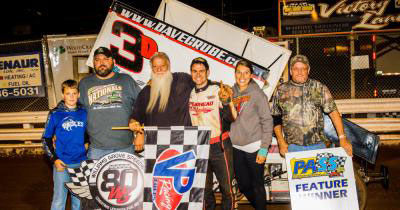 MECHANICSBURG, Pa. (Sept. 13) – Dave Grube alluded to his tough 2019 season ("We tore up a bunch of cars this year") and his father's resolve that the team "finish the season strong." 
Fortunately, he was able to relate those comments Friday from victory lane at Williams Grove Speedway.
Grube made a fourth-lap pass to take the lead from rookie Garrett Bard, and held off challengers including another strong rookie Dylan Proctor and national IMCA RaceSaver Sprint Car point leader Ken Duke to claim his first win in more than a year in the 20-lap Pennsylvania Sprint Se­ries feature.
The York Haven driver last put his ride in the winner's circle at BAPS Motor Speedway on Aug. 18, 2018.
Proctor matched his career-best finish while Duke drew the 12th starting position, charged to third and fell just a few laps short.
Defending PASS champion Zach Newlin came home fourth, followed by Devin Adams, who raced from 16th starting to claim fifth.
That finish gave Adams the Hoosier Tire Mid-Atlantic Hard Charger Award for advancing 11 posi­tions.
Feature results – 1. Dave Grube; 2. Dylan Proctor; 3. Ken Duke; 4. Zach Newlin; 5. Devin Ad­ams; 6. Ryan Lynn; 7. Scott Lutz; 8. Jeff Geiges; 9. Kassidy Kreitz; 10. Scott Ellerman; 11. Jaremi Han­son; 12. Erin Statler; 13. Logan Diehl; 14. Steve Surniak; 15. Jake Frye; 16. John Walp; 17. Dom Melair; 18. Kenny Heffner; 19. George Riden; 20. Garrett Bard; 21. Drew Ritchey; 22. Doug Dodson; 23. Keith Prutzman; 24. Ben McCall.