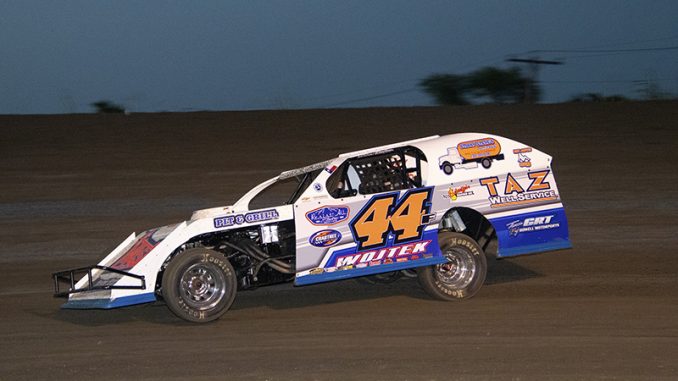 WACO, Texas (July 3) – Same story, different track. 
For the second time in as many nights, Fred Wojtek started on the pole and led all 25 laps in winning a Red River South Tour feature for IMCA Modifieds, earning $1,000 for his Friday green to checkered run at Heart O' Texas Speedway.
"It's crazy that I drew the one again," said Wojtek, the Thursday winner at Grayson County Speedway. "I didn't believe I could do that."
After nearly getting collected by a lapped car halfway through, Wojtek stuck to the bottom line and held off a late challenge from Cody Leonard, then focused on hitting his marks the last two times around the track.
Leonard, Josh McGaha, Ken Schrader and Larry Adams completed the top five. Dillon Tindall started last in the field of 25 and finished sixth.
"We've raced that place (Heart O' Texas) maybe a dozen times before. We finished second once and we finished third once, but good gosh it's been a place that's been rough for us," said Wojtek, who'd put his name on the Fast Shafts All-Star ballot with his win at Bells. "We finally got the monkey off our back."
G.W. Egbert IV got to the front following a late restart, then prevailed in the $1,500 to win Baby Blue Harcrow Memorial feature for IMCA Sunoco Stock Cars. The 25-lapper saw a green, white, checkered finish, with Egbert just outrunning business partner Jeffrey Abbey and Benji Kirkpatrick.
"It was awesome," said Egbert, who had squeezed between Abbey and Kirkpatrick to take over the front spot.
William Gould started 21st and finished fourth. Joe O'Bryan was fifth.
Winner of the Smiley's Racing Products Southern SportMod feature was Jake Upchurch, ahead of 17th starting Jeff Shepperd, 12th starting Egbert and 14th starting Dillon Smith.
Feature Results
Modifieds – 1. Fred Wojtek; 2. Cody Leonard; 3. Josh McGaha; 4. Ken Schrader; 5. Larry Adams; 6. Dillon Tindall; 7. Eric Tomlinson; 8. Chris Morris; 9. Chaz Baca; 10. Brent Gilliam; 11. Chris Elliott; 12. Chuck Sander; 13. Justin Radcliff; 14. Cody Tidwell; 15. William Gould; 16. David Goode Jr.; 17. Chad Melton; 18. Adam James; 19. Jeffrey Abbey; 20. Kevin Green; 21. Raymond McSpadden; 22. Chris Bragg; 23. Ryan Williams; 24. Matt Guillaume; 25. Beau Begnaud.
Stock Cars – 1. G.W. Egbert IV; 2. Jeffrey Abbey; 3. Benji Kirkpatrick; 4. William Gould; 5. Joe O'Bryan; 6. Charles Brewer; 7. Jason Batt; 8. Darryl Campbell; 9. Erik Miles; 10. Anthony Otken; 11. George Egbert; 12. Justin Bruce; 13. Gary Williams; 14. Chris Birmingham; 15. Andy Roller; 16. Shelby Williams; 17. Colton Obregon; 18. Dustin Mooney; 19. Westin Abbey; 20. Travis Norman; 21. Markiss Harcrow; 22. Ryan Powers; 23. Aaron Benedict; 24. Lewis Blackwood; 25. A.J. Dancer.