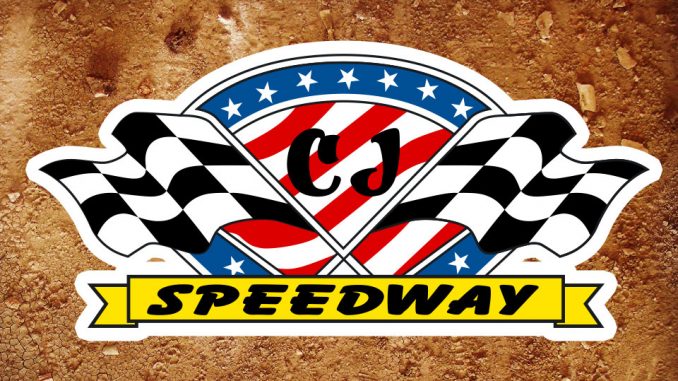 By Jerry Mackey 
COLUMBUS JUNCTION, Iowa (July 3) – After a two week hiatus due to weather cancellations, racing returned to the CJ Speedway with an outstanding night of racing which saw 80 cars pack the infield.
The grand finale of the night that saw everything that a race track could offer was the IMCA Modi­fied main event. Twenty drivers took the green flag and veteran Steve Johnson ran out front until Jeff Larson was able to wrestle the lead away.
Front row starter Denny Eckrich ran in the lead pack the entire race, found the perfectly prepared track to his liking and made a late-race charge to take the lead from Larson as the laps wound down. Another driver on a late race charge was Derrick Stewart. When the checkers flew it was Eckrich taking the win with a slight margin over Stewart and Larson.
Jason See drew the pole for the IMCA Sunoco Stock Car feature and appeared to be en route to the win. It was not to be, however, as Adam Bell broke out of the lead pack and got by See as the laps wound down. Bell has been a strong contender this season but the win Friday night was his first of the year at CJ Speedway.
See held off a fast closing Corey Strothman at the line for second. Strothman advanced to a third place finish from a 11th position start. 
The Karl Kustoms Northern SportMods saw 24 cars take the green flag and before lap two was completed a multi-cat tangle on the front chute brought out the red flag. The race restarted with Logan Anderson holding the lead until Carter VanDenBerg made a late-race move to take over the top spot. VanDenBerg went on to score the win over Anderson and Shane Paris.
The Mach-1 Sport Compact main event was the Jake Benischek show. Benischek shot into the lead form the fourth position start and went on to score an impressive win over Cody Staley and Chuck Fullenkamp.
Following the races the fans were treated to a fireworks display provided by the Louisa County Fair Board.
Racing action will continue at the CJ Speedway on Friday, July 10 with hot laps at 7:15 p.m. and racing to follow.