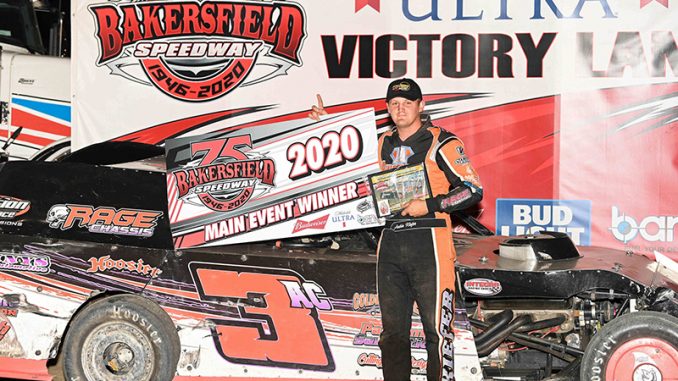 BAKERSFIELD, Calif. (June 27) – Racing returned to Bakersfield Speedway and Austin Kiefer returned to victory lane following Saturday's Richie McGowan Memorial.
Kiefer topped the IMCA Modified special ahead of Robby Sawyer for a second straight year, earning $1,000. Jerry Flippo, Cody Laney and Troy Foulger completed the top five.
"It was pretty cool deal. To be able to win this race twice in a row means a lot to me," said Kiefer, already a Fast Shafts All-Star Invitational ballot candidate. "I grew up watching Tina and Brad (Pounds, McGowan's daughter and son-in-law) race."
Kiefer started outside Sawyer on the front row and led every lap. Sawyer challenged early but there was no catching Kiefer after the sole caution flew at midway.
Laney made his way to fourth from 14th starting.
Drivers with proven Karl Kustoms Northern SportMod credentials squared off in that $700 to win feature and it was defending track champion Michael Johnson first across the stripe half a car length ahead of defending race winner Jason Nation.
Johnson used the higher line to lead most of the way before the eighth starting Nation sped by with four laps to go.
Johnson rallied to pull even, then pulled just ahead on the final lap.
Nick Spainhoward, Garrett Jernagan and 13th starting Daniel West completed the top five.
Feature Results
Modifieds – 1. Austin Kiefer; 2. Robby Sawyer; 3. Jerry Flippo; 4. Cody Laney; 5. Troy Foulger; 6. Logan Drake; 7. Gary Dutton; 8. Rob Sanders; 9. Bobby Hogge IV; 10. Alex Stanford; 11. Jack Aguiar; 12. Brad Pounds; 13. Roger Holder; 14. Bryan Clark; 15. Michael Thing; 16. Steve Noland; 17. Tom Smith; 18. Chris Crompe; 19. Dakota Schweitzer; 20. Chett Reeves; 21. Tommy Malcolm; 22. Ethan Dotson; 23. Gavyn Manning; 24. Kyle Heckman.
Northern SportMods – 1. Michael Johnson; 2. Jason Nation; 3. Nick Spainhoward; 4. Garrett Jernagan; 5. Daniel West; 6. Brian Baker; 7. T.J Etchinson III; 8. Jeff Miller; 9. Dylan Potter; 10. Greg Mann; 11. Justin Gonzalez; 12. David Pearson; 13. Austin Ruskauff; 14. Billy Simkins; 15. Jason Bannister; 16. Brylon Holder; 17. Tyler Blankenship; 18. Brock Crawford; 19. Robby Claborn; 20. Michael Black; 21. Markus Frazier; 22. Cale Kanke.