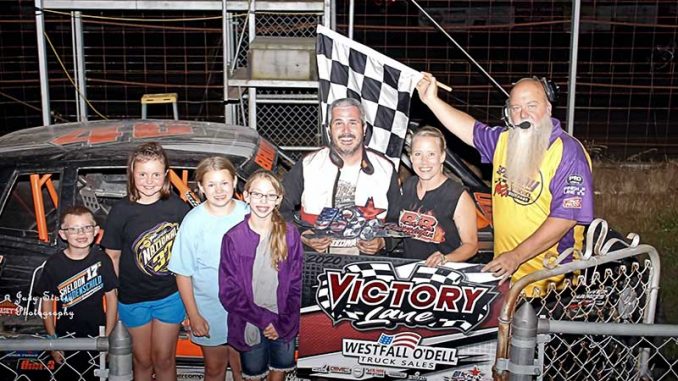 By Jacob Blair 
OSBORN, Mo. (June 26) – When the big money is on the line, it is historically J.J. Baumli al­ways challenging to run away with the winner's check. However, for the Doyle Lance Remem­brance Race for the IMCA Sunoco Stock Cars, it looked as though Mich Ross and Connor Ma­soner would be the one's battling for the trophy.
Ross led more than half of the 20-lap feature, with Masoner in his tire tracks. With a few laps to go, Masoner got a run on Ross and the two made contact. Both drivers left the track with flat tires and Baumli inherited the lead and the eventual win.
Chad Clancy, making his first appearance in a Stock Car this season, finished in the second posi­tion. Tim Eaton, also making his first Stock Car appearance of 2020, finished third with Thomas Roberts fourth and Brad Derry in fifth.
The IMCA Modifieds put on the race of the night as it came down to a photo finish to determine the winner. Chad Clancy drove to the early lead, using the bottom of the race track. As Clancy built a gap, Shayne Bailey, Steven Bowers Jr., Chad Andersen, Josh Munsen and Clay Hale were in the next pack of cars battling for position, while also searching for a line to chase down Clancy.
After halfway, Bailey found some speed on the high side and started gaining on Clancy. With the help of a few cautions, Bailey made his move on Clancy getting to his outside. After briefly tak­ing the lead, Bailey jumped the cushion and got into the wall ending his chance at a win.
Bailey however showed Andersen where the fast line was, and on the final restart, Andersen got to the outside of Clancy. The two battled side-by-side for the final two laps and Andersen edged Clancy at the line by .026 of a second for his first trip to Westfall GMC Victory Lane. Bowers finished third, with Hale fourth and Munsen fifth.
Zach Nitsch was the Karl Kustoms Northern SportMod winner.