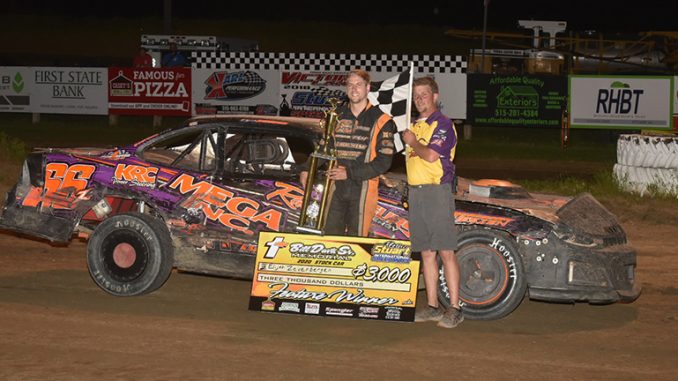 By Josh Reynolds
STUART, Iowa (June 3) – Elijah Zevenbergen and Johnathon Logue were $3,000 feature winners on the third night of Stuart Speedway's Dynamic Drivelines Dirt Duel.
Zevenbergen grabbed the IMCA Sunoco Stock Car checkers ahead of second-year speedster Dallon Murty Wednesday night while Logue beat Cody Thompson to the Karl Kustoms Northern SportMod finish by not much more than the width of his bumper.
Zevenbergen and Todd VanEaton brought the Stock Car field to the green flag. Zevenbergen took control early in the 50-lapper as Murty worked his way through to second just before a caution came out on lap 21.
Murty bobbled on lap 40 and allowed his father Damon to take over second place. The caution flew again on lap 44 and gave the field one more chance at Zevenbergen. Dallon Murty got a run on the top side and took over second and as the white flag flew the leaders made contact in turn two.
Murty took his shot and threw a slide job in turn three but Zevenbergen was able to stop his momentum, turn down to retake the lead and grab the win and the $3,000 check. Dallon Murty finished in second with Damon Murty third, Jesse Sobbing fourth and Abe Huls fifth.
Shane Paris and Brayton Carter earned front row starts in Northern SportMod qualifiers on Monday and Tuesday. Carter showed the way early with Thompson not far behind.
Carter looked strong over the first 40 laps but contact forced him pit side on lap 41. Thompson led through two caution flags and on the final restart. Logue made a charge to the lead as the cars took the white flag.
As the top two came to the flag stand on the final circuit it was Logue by a bumper to take the win and the $3,000 top prize. Thompson settled for second with Josh Most third, Colby Fett fourth and Colby Langenberg fifth.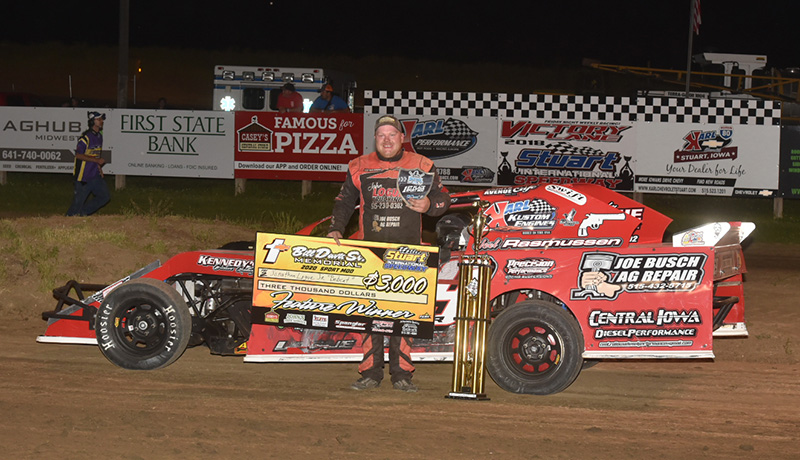 Cayden Carter collected the $1,000 Bill Davis Memorial checkers for IMCA Modifieds while Brandon Cox was best in the IMCA Sunoco Hobby Stock feature.
Todd Shute and Casey Delp drew the front row for the Modified feature with Shute taking command early on. Carter and Joel Rust made it to second and third, respectively, just before the caution flew on lap 17. Carter took advantage of the restart to grab the lead right before another caution flew.
Tim Ward shot to second on the final restart but it was Carter, already a Fast Shafts All-Star Invitational ballot candidate, dominating to the checkered flag. Ward was second with Tom Berry Jr. third, Shute fourth and Rust fifth.
Cox's initial lead in the Hobby feature was short lived as Dylan Nelson took over the top spot a few laps later. Cox used the bottom side of the track to muscle his way back to the front and went on to the win. Bennett finished second with Nelson third, Miciah Hidlebaugh fourth and Travis Fenton fifth.
The Dirt Duel was sponsored by Midstate Machine, Sniper Speed and Country Kitchen of Stuart.
Feature Results
Stock Cars – 1. Elijah Zevenbergen; 2. Dallon Murty; 3. Damon Murty; 4. Jesse Sobbing; 5. Abe Huls; 6. Troy Jerovetz; 7. Todd Van Eaton; 8. Todd Reitzler; 9. Josh Daniels; 10. Shawn Ritter; 11. Dustin Vis; 12. Brad Derry; 13. Joe Zrostlik; 14. Brandon Pruitt; 15. Leah Wroten; 16. Robert Stofer; 17. Bob Daniels; 18. Ty Hill; 19. Chanse Hollatz; 20. Buck Schafroth; 21. Luke Lemmens; 22. Derek Green; 23. Jay Schmidt; 24. Jake Masters
Northern SportMods – 1. Johnathon Logue; 2. Cody Thompson; 3. Josh Most; 4. Colby Fett; 5. Colby Langenberg; 6. Brian Osantowski; 7. Josh Appel; 8. Tyler Inman; 9. Carter VanDenberg; 10. Adam Birck; 11. Garrett Nelson; 12. Cory Pestotnik; 13. Hunter Longnecker; 14. Dusty Masolini; 15. Dylan Petersen; 16. Adam Bohlman; 17. Joshua Moulton; 18. Shane Paris; 19. Dylan VanWyk; 20. Tyler Nerud; 21. Josh Sink; 22. Cam Reimers; 23. Brayton Carter; 24. Brandon Patava.
Modifieds – 1. Cayden Carter; 2. Tim Ward; 3. Tom Berry Jr.; 4. Todd Shute; 5. Joel Rust; 6. Jacob Murray; 7. Jeff James; 8. Ethan Braaksma; 9. Jesse Sobbing; 10. Kyle Brown; 11. Dylan Thornton; 12. Jake McBirnie; 13. Clay Money; 14. David Brown; 15. Kelsie Foley; 16. Alan Bohlman; 17. Randy Foote; 18. Cory Sauerman; 19. Matthew Meinecke; 20. Jesse Dennis; 21. Anthony Roth; 22. Chase Rudolf; 23.Casey Delp; 24. Tanner Black.
Hobby Stocks – 1. Brandon Cox; 2. Solomon Bennett; 3. Dylan Nelson; 4. Miciah Hidlebaugh; 5. Travis Fenton; 6. Jason Kohl; 7. Brandon Long; 8. Chuck Madden Jr.; 9. Tom Killen Jr.; 10. Rusty Bates; 11. Jerry Richards; 12. Shane Butler; 13. Aaron Rudolph; 14. Matt Tiernan; 15. Josh Killen; 16. Matt Wahl; 17. Tanner Dixon.