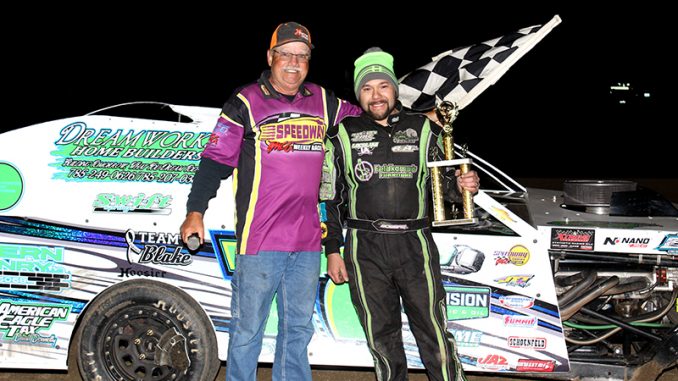 By Chet Querry 
BETHANY, Mo. (May 9) – The first race of the season at Bethany Speedway started off with rec­ord-setting numbers: More race cars in the pit area than has ever been, including the Northwest Missouri State Fair; the biggest count of fans that has attended Bethany Speedway since they reopened for regular racing in 2018; and drivers representing 12 different states from as far as Pennsylvania, Ohio, Indiana and Arizona.
Feature wins went to Steven Bowers Jr. in the IMCA Modifieds, Tyler Drueke in the IMCA Rac­eSaver Sprint Cars, J.J. Baumli in the IMCA Sunoco Stock Cars and Truman Asher in the Karl Kustoms Northern SportMods.
The Modified feature was one of the best there's been and ran green to checkered after two early cautions. Defending national champion Jordan Grabouski qualified through a 'B' feature and moved up quickly at the start.
Chad Clancy jumped into the lead from his fifth place starting spot while right behind him came Bowers. Jesse Sobbing, who started 12th, went right to the top and passed his way toward the front. Clancy had a little bit of a lead most of the race but Bowers kept working his way around in a little higher line.
Bowers took the lead and went on to win his fourth feature in five appearances at Bethany Speed­way. Clancy held on to second while Dakota Sproul slowly snuck his way up through the field to third. Sobbing slipped one spot to fourth late and Grabowski, who did triple duty in three IMCA divisions, climbed his way to crack into fifth.
Fifteen-year-old Saban Bibent from Cincinnati Ohio led early in the Sprint Car feature. Bibent was challenged by Jay Russell while lurking back just a little was Tyler Drueke.
Drueke went to the top lane following a restart, slowly started picking off cars and cutting distance to the leaders. Bibent drifted just a little high and opened the door from Drueke to take the lead. Shayle Bade sat in the top four the entire race and worked herself past Russell for second. Adam Gullion finished fourth and Bibent fifth.
Also the defending national Stock Car champion, Grabouski and eight-time national champ Mike Nichols drew the second and fourth starting spots while Baumli lined up third on the initial green.
A quick yellow put Baumli in front for the restart. Nichols and Grabowski went back and forth for second. Around mid-race, Nichols sailed it into the third corner and tried to dive to the inside of Grabouski. It didn't stick and resulted in Nichols getting turned around.
Brad Derry had been working his way up and on the restart sat in third. Baumli held of Grabowski diving to the inside and picked up his first-ever win at Bethany, which also happens to be the first track he raced at. Grabouski was second with Derry right behind him. Carson Masoner and 22nd starting Darin Nelson completed the top five.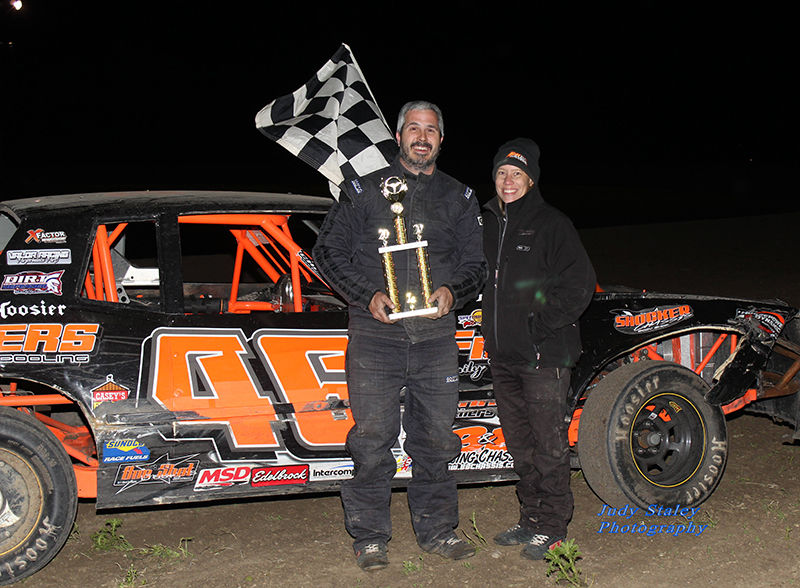 The Karl Kustoms Northern SportMod feature ran non-stop. Shuffling early in the event finally settled down about halfway through. Asher took the win with Tim Stallbaumer, Josh Sink, Bran­don Patava and Hunter Longnecker finishing second through fifth.