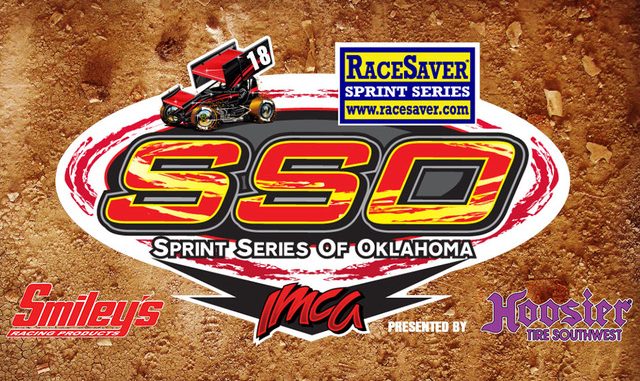 MEEKER, Okla. (March 7-8) – Danny Wood ran his winning streak to three before Jason Martin started a streak of his own during opening weekend action for the Sprint Series of Oklahoma. 
Wood topped Saturday's main event for IMCA RaceSaver Sprint Cars at Red Dirt Raceway, tak­ing the lead just before midway in the 20-lapper.
And under gray Sunday skies, Martin motored from eighth on the initial grid to catch Wood for the lead in heavy traffic on the 10th of 25 circuit.
A double winner at Lawton Speedway on the final weekend of the 2019 IMCA Speedway Motors Weekly Racing point season, Wood had just two career SSO starts under his belt coming into the dou­bleheader at Red Dirt and his Saturday night could have only gotten better after he drew the 98 pill.
Wood trialed 16th, won his heat from the fifth spot and then started third in the main event.
"It felt really good to get the win," said Wood, joined in victory lane by six-year-old grandson and crew chief Parker, who'd helped pick out tires and shared credit for the evening's success. "We were racing close to home so we had a lot of family and friends come out."
Three-time series champion Andy Shouse was runner-up. Wayne Johnson, Steven Shebester and Kyle Clark were next across the stripe.
Martin was quickly into second on Sunday but wasn't sure how good his car was until going five-wide to catch Wood for the front spot.
"I didn't know how good I was until we got into lapped traffic," he said. "The first night was a bit of a challenge. It was good to get the win on the second night."
Johnson, Shebester and Clark repeated their 3-4-5 finish from Saturday.
Feature Results
March 7 – 1. Danny Wood; 2. Andy Shouse; 3. Wayne Johnson; 4. Steven Shebester; 5. Kyle Clark; 6. Craig Carroll; 7. Cody Whitworth; 8. Layne Himebaugh; 9. Josh Toho; 10. Chris Kelly; 11. Zach Patterson; 12. Tanner Conn; 13. Colby Thornhill; 14. Brett Becker; 15. Johnny Kent; 16. Dillon Laden; 17. Nick Lucito; 18. Mickey Walker; 19. Dewayne White; 20. Jesse Graham; 21. Brandon Jennings; 22. Cameron Hagin.
March 8 – 1. Jason Martin; 2. Wood; 3. Johnson; 4. Shebester; 5. Clark; 6. Shouse; 7. Kent; 8. Alison Slaton; 9. Kolton Garris; 10. Trey Burke; 11. Hagin; 12. Kelly; 13. Patterson; 14. Lucito; 15. Eric Matthews; 16. Justin Patocka; 17. Thornhill; 18. Brandon Anderson; 19. Conn; 20. Becker; 21. Jennings; 22. Shayla Waddell; 23. Graham; 24. Justin Mowry.