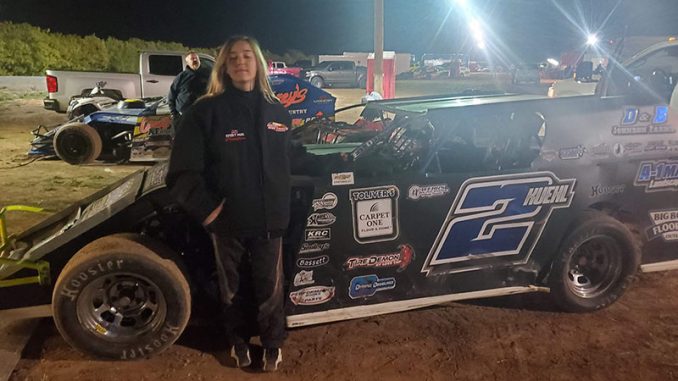 TUCSON, Ariz. (Feb. 15) – Ricky Thornton Jr. wrapped up two titles with feature victories while Brady Bjella became a first-time winner and ever-consistent Taylor Kuehl earned an IMCA Arizona Dirt Track Tour championship of her own Saturday at USA Raceway.
Thornton led all but the first of 25 IMCA Modified main event circuits and all 20 times around the track in the IMCA Sunoco Stock Car feature.
Alex Stanford was scored first on the opening lap of the Modified finale, but Thornton drove by in the first set of turns on lap two. He caught up with the back of the field on lap nine and led Stanford through traffic from that point.
The race ran caution-free and Thornton avoided potential late drama with a nifty high side pass of two lapped cars. The $2,000 victory was Thornton's second straight at Tucson, third of the tour and already Fast Shafts All-Star Invitational ballot qualifying fifth of the season.
Stanford was second and Drew Armstrong held off Jake O'Neil for third. Chaz Baca started 13th and finished fifth.
After a stoppage on the opening lap, the Stock Car feature ran green to checkered and Thornton and Zachary Madrid one-two across the stripe every time. Brendon LaBatte made his way to the podium following a long run in third.
The $750 checkers were Thornton's fourth straight and fifth in six Stock tour outings.
Bjella started ninth and ran second to Austen Becerra the final 15 laps of the Karl Kustoms Northern SportMod feature, then was promoted to the $750 top spot when Becerra was disqualified in post-race tech for a suspension rule infraction.
Seventeenth starting Bo Partain and Cory Hemphill moved up to second and third, respectively. Kuehl was seventh in her tour title-clinching run.
Feature Results
Modifieds – 1. Ricky Thornton Jr.; 2. Alex Stanford; 3. Drew Armstrong; 4. Jake O'Neil; 5. Chaz Baca; 6. Jeff Taylor; 7. Casey Skyberg; 8. Grey Ferrando; 9. D.J. Shannon; 10. Bricen James; 11. Tim Ward; 12. Ryan Roath; 13. Joey Price; 14. Lance Mari; 15. Zachary Madrid; 16. Erick Thiesse; 17. Christy Barnett; 18. Kelsie Foley; 19. Jacob Pace; 20. Jon DeBenedetti; 21. Bryan Renken; 22. Garth Dushanek; 23. Jim Cocks; 24. Ryan Jenkins.
Stock Cars – 1. Ricky Thornton Jr.; 2. Zachary Madrid; 3. Brendon LaBatte; 4. Chanse Hollatz; 5. Kevin Roberts; 6. Andrew Burg; 7. Andrew Mathers; 8. Larry Leetch; 9. Wayne Clink; 10. Sean Gentry; 11. Craig Miller; 12. Robert Burchett.
Northern SportMods – 1. Brady Bjella; 2. Bo Partain; 3. Cory Hemphill; 4. Michael Egurola; 5. Justin Erickson; 6. Tate Johnson; 7. Taylor Kuehl; 8. Speedy Madrid; 9. Ben Stockton; 10. Ron Schreiner; 11. David Pitt; 12. Eric Folstad; 13. Dwayne Melvin; 14. Timothy Allerdings; 15. Terry Bahr; 16. Rick Akers; 17. Slade Pitt; 18. Scott Walker; 19. Chris Theodore; 20. Clay Erickson; 21. Rex Hasley; 22. Koty McGullam; 23. Kyler Reynolds.