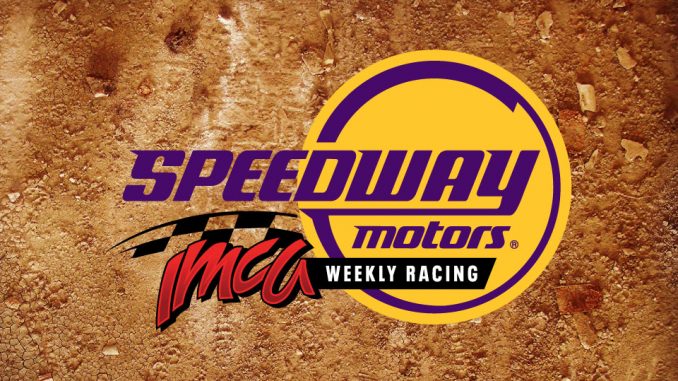 TUCSON, Ariz. (Feb. 14) – Ricky Thornton Jr. was a double winner while Austen Becerra col­lected his first IMCA Arizona Dirt Track Tour checkers Friday at USA Raceway.
Thornton won for the fourth time in five IMCA Sunoco Stock Car Tour starts, before outrunning Jeff Taylor and Alex Stanford for another IMCA Modified victory.
In between those two features, Becerra rocketed from eighth starting to top the Karl Kustoms North­ern SportMod main. He passed Clay Erickson and Brady Bjella following a lap 14 restart, then led to the finish.
"I thought I had a third place car 'til I got to lapped traffic," the Carthage, Ill., charger said post-race. "But it worked out pretty good for us. It was good to click one off here."
Becerra had sandwiched fourth- and third-place finishes around a pair of 21st place showings in his four prior tour outings. His win was good for $750.
Bjella and Bo Partain were one-two in the early going. Erickson owned the second spot after a lap four restart while Becerra motored along in third from lap six to the second and final restart.
Bjella ended in second, Partain in third.
A lap five caution in the Modified main opened the door for Thornton, who sped by Taylor and Stanford on the restart and then checked out before a series of yellows late in the contest.
Taylor got past Stanford with five to go but neither could deny Thornton another $2,000, Fast Shafts All-Star Invitational ballot qualifying victory. Chaz Baca started 12th and finished fourth.
Thornton led all 20 laps of the $750 to win Stock Car feature. Challenger Zachary Madrid exited with mechanical issues between two cautions that came out before halfway.
Brendon LaBatte took up the chase from that point and was runner-up, a second and a half back at the finish. Third went to Chanse Hollatz.
Feature Results
Modifieds – 1. Ricky Thornton Jr.; 2. Jeff Taylor; 3. Alex Stanford; 4. Chaz Baca; 5. Drew Arm­strong; 6. Tim Ward; 7. Jake O'Neil; 8. Zachary Madrid; 9. Casey Skyberg; 10. Bricen James; 11. Erick Thiesse; 12. Kelsie Foley; 13. Christy Barnett; 14. Ryan Roath; 15. Ryan Jenkins; 16. Jacob Price; 17. Jon DeBenedetti; 18. D.J. Shannon; 19. Grey Ferrando; 20. Lance Mari; 21. Rick Spen­cer; 22. Mark Norris; 23. Joey Price; 24. Casey Arneson.
Stock Cars – 1. Ricky Thornton Jr.; 2. Brendon LaBatte; 3. Chanse Hollatz; 4. Arron Hetrick; 5. Kevin Roberts; 6. Sean Gentry; 7. Craig Miller; 8. Andrew Mathers; 9. Larry Leetch; 10. Wayne Clink; 11. Zachary Madrid; 12. Rene Mares.
Northern SportMods – 1. Austen Becerra; 2. Brady Bjella; 3. Bo Partain; 4. Clay Erickson; 5. Cory Hemphill; 6. Taylor Kuehl; 7. Michael Egurola; 8. Ben Stockton; 9. David Pitt; 10. Ron Schreiner; 11. Eric Folstad; 12. Speedy Madrid; 13. Kyler Reynolds; 14. Rick Akers; 15. Slade Pitt; 16. Shelby Frye; 17. Dwayne Melvin; 18. Brandyn Johnson; 19. Tate Johnson; 20. Timothy Allerdings; 21. Rex Hasley; 22. Terry Bahr; 23. Scott Walker; 24. Justin Erickson.