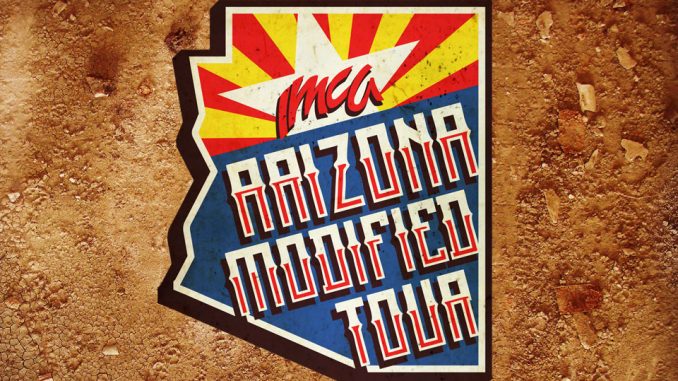 By Jackson Braun 
TUCSON, Ariz. (Feb. 15) – The grand reopening of the fast USA Raceway was a successful one for many. The track had been shut down for a few years but hard work and dedication to bringing racing back to the facility led to the final two dates for the 2019 edition of the Arizona Mod Tour.
Ricky Thornton Jr. and John Hansen led the IMCA Modified field to the green and from that point on Thornton was arguably the smoothest racer on the speedway as he scampered away even after the lone caution of the event.
Racing was phenomenal throughout the pack as the drivers adjusted to the track conditions and swapped positions back and forth.
Colorado racer Brett Smith had a strong run as he jumped into second place early. Behind him, young guns Zachary Madrid and D.J. Shannon raced hard against veterans Jeff Taylor and hometown racer Jake O'Neil.
Thornton claimed his fourth $1,500 victory of the week as Smith finished second with Shannon, Madrid, and O'Neil completing the top 5.
The Karl Chevrolet Northern SportMod field was infused with new blood for the rounds at USA as Iowa racer Austin Paul checked out on the field after grabbing the lead early in the 20-lap contest.
Keith Brown Jr. and Ryan Moser completed the podium with respective strong runs.
Feature Results
Modifieds –1. Ricky Thornton Jr., Clive, Iowa; 2. Brett Smith, Merino, Colo.; 3. D.J. Shannon, Merced, Calif.; 4. Zachary Madrid, Tucson; 5. Jake O'Neil, Tucson; 6. Jeff Taylor, Cave City, Ark.; 7. John Hansen, Brush, Colo.; 8. Jeff Larson, Freeport, Ill.; 9. Drew Armstrong, Benton, Ark.; 10. Bubba Stafford, Wittmann; 11. Rick Akers, Tucson; 12. Kollin Hibdon, Pahrump, Nev.; 13. Kelsie Foley, Tucson; 14. Kody Scholpp, Estevan, Sask.; 15. Casey Arneson, Fargo, N.D.; 16. Bob Moore, Sioux City, Iowa; 17. Riley Simmons, Susanville, Calif.; 18. Lance Mari, El Centro, Calif.; 19. Justin Kay, Wheatland, Iowa; 20. Jason Noll, Peoria; 21. Hunter Marriott, Brookfield, Mo.; 22. Shane DeMey, Denison, Iowa; 23. Ryan Roath, Peoria; 24. J.P. Dowell, Killeen, Texas; 25. Tyler Mecl, Queen Creek; 26. Tim Ward, Harcourt, Iowa.
Northern SportMods –1. Austin Paul, Monroe, Iowa; 2. Keith Brown Jr., Pittsburg, Calif.; 3. Ryan Moser, Englewood, Colo.; 4. Brady Bjella, Williston, N.D.; 5. Bo Partain, Casa Grande; 6. Chase Rudolf, Prole, Iowa; 7. Roy Poeling Jr., Globe; 8. Speedy Madrid, Laveen; 9. Jake McBirnie, Boone, Iowa; 10. Dwayne Melvin, Medford, Ore.; 11. Michael Egurola Jr., Tucson; 12. Kelly Jacobson, Fargo, N.D.; 13. Chuck Delp, Rock Springs, Wy.; 14. David Jones, Chandler; 15. Brandyn Johnson, Mesa; 16. Brian Osantowski, Columbus, Neb.; 17. Ethan Braaksma, Newton, Iowa; 18. Cole Carver, Apache Junction; 19. Tate Johnson, Homestead, Mont.; 20. Jim Horejsi, Marshall, Minn.; 21. Bryan Moreland, Durango, Iowa; 22. Ty Weidner, Chandler; 23. Shelby Frye, Casa Grande; 24. Justin Svoboda, David City, Neb.