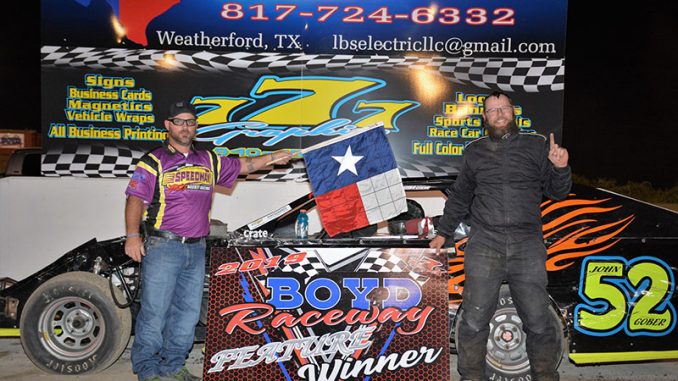 BOYD, Texas (Oct. 12) – The exclamation point to John Gober's season at Boyd Raceway came with Saturday's $1,000 Fall Finale checkers.
Gober collected three of his seven 2019 IMCA Modified feature wins along with the track title at Boyd. He started the Fall Finale from 10th and passed Cody Shoemaker for the lead with seven laps left.
"I fell back a couple spots going into the first turn but was back up to seventh by the first caution and in third by the second caution," the new Fast Shafts All-Star Invitational ballot qualifier said. "We had a pretty good year and this turned out to be another good night for us."
Gober and Shoemaker tussled over second in a duel interrupted by yellow flags before leader William Gould exited with mechanical issues.
Shoemaker ended the night in second with Matt Guillaume third.
Other $1,000 winners were Jeffrey Abbey in the IMCA Sunoco Stock Cars, Kaden Honeycutt in the Smiley's Racing Products Southern SportMods and Jeff Emerson in the IMCA RaceSaver Sprint Cars.
Abbey started third and had the lead by lap five of the Stock Car main. Gould worked his way up to second but couldn't challenge as the last half of the race stayed green.
Jerrett Bransom was third.
Honeycutt scored a career best payday in the Southern SportMod feature after drawing the pole start.
"The top was the fastest lane for me. I knew the top was the dominant part of the track and made sure I hit my marks and didn't slide up on the track," he said. "It was a great race and I had a lot of fun with my racing buddies."
Jake Upchurch and Dean Abbey were next across the stripe.
Emerson outran Marcus Thomas and John Ricketts in the race to the RaceSaver Sprint Car check­ers.
The Mach-1 Sport Compact win by Steve Riojas paid $200. Derek Cates and Bondy Cannon com­pleted the top three.
Feature Results
Modifieds – 1. John Gober; 2. Cody Shoemaker; 3. Matt Guillaume; 4. Derek Scott Jr.; 5. Jeff Emerson; 6. Ryan Williams; 7. Austin Carter; 8. Mike Moore; 9. Alex Anders; 10. Dusty Powers; 11. Chris Luttmer; 12. Michael Talley; 13. David Gonzales Jr.; 14. Jeffrey Abbey; 15. William Gould; 16. Chad Melton; 17. Mark Adams; 18. Josh McGaha; 19. Michael Ables; 20. Chris Bragg.
Sprint Cars – 1. Jeff Emerson; 2. Marcus Thomas; 3. John Ricketts; 4. Logan Scherb; 5. Chase Brewer; 6. Corby Scherb; 7. Josh Harner; 8. Lucas Scherb; 9. Merle Scherb; 10. Randy Hender­son; 11. Casey Merrell; 12. Austin Burkham.
Stock Cars – 1. Jeffrey Abbey; 2. William Gould; 3. Jerrett Bransom; 4. Damon Hammond; 5. Austin Gregg; 6. Demetrius Carter; 7. Blake Clark; 8. Marcus Hahn; 9. Bryce Pritchett; 10. Cody Shoemaker; 11. Ranger Shipman; 12. Blake James; 13. Ron Palmer; 14. Doug Kennemer; 15. Mike Childs; 16. Justin Bruce; 17. Dennis Bissonnette; 18. Westin Abbey; 19. Lewis Blackwood; 20. Aaron Benedict.
Southern SportMods – 1. Kaden Honeycutt; 2. Jake Upchurch; 3. Dean Abbey; 4. Gabe Tucker; 5. Tyler Bragg; 6. Jerrett Bransom; 7. Michael Dabney Jr.; 8. Michael Villanueva; 9. Chase Vine­yard; 10. Joseph Doremus; 11. Justin Long; 12. Michael Young; 13. John South; 14. Robbie Ed­wards; 15. Richard Walp; 16. Devin Burgess; 17. Tyler Honeywell; 18. Steve Hayes.
Sport Compacts – 1. Steve Riojas; 2. Derek Cates; 3. Bondy Cannon; 4. Howard Watson; 5. Patrick Miller; 6. Randall Carty; 7. Chris Masterson; 8. Charles Burrows; 9. Kaleb Watson; 10. Taylor Shields.