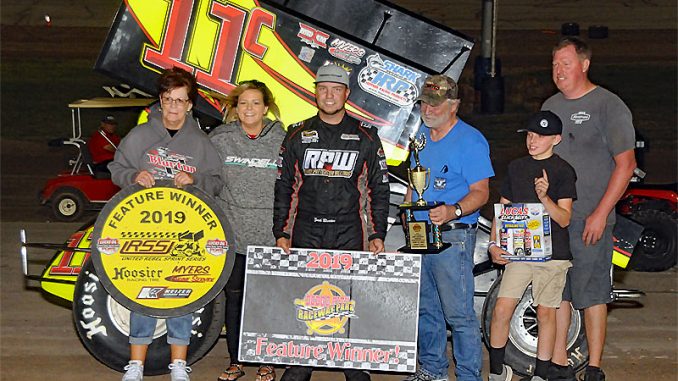 By Lonnie Wheatley
DODGE CITY, Kan. (Sept. 14) – Zach Blurton notched his third career Jerry Soderberg Memorial win in the seventh annual 25-lap Precise Racing Products DCRP Sprint Car vs. United Rebel Sprint Series event Saturday at Dodge City Raceway Park.
Blurton gunned into the lead from the pole position and led throughout to finish off his URSS champion­ship campaign. Blurton kept Luke Cranston at bay all the way.
Behind the lead duo, several drivers held down the show position along the way including Ty Wil­liams in the early going and then Taylor Velasquez briefly before Jake Martens took command of the position at the midway point and held it the rest of the way.
In his first DCRP start since a grinding crash on May 4, Colorado's Buddy Tubbs climbed from 10th to capture fourth with Jordan Knight rounding out the top five.
While Blurton finished out the regular season with his first Dodge City win of the year, other Soder­berg winners included Clay Sellard in the IMCA Modifieds, Blaine Walt in the IMCA SportMods, Chris Oliver in the IMCA Sunoco Stock Cars and Tathan Burkhart in the IMCA Sunoco Hobby Stocks.
Feature results – 1. Zach Blurton; 2. Luke Cranston; 3. Jake Martens; 4. Buddy Tubbs; 5. Jordan Knight; 6. Ray Seeman; 7. Steven Richardson; 8. Aric Sooter; 9. J.D. Johnson; 10. Jeremy Huish; 11. Kyler Johnson; 12. Tyler Knight; 13. Alexander Ort; 14. Taylor Velasquez; 15. Kade Hagans; 16. Brian Herbert; 17. Jed Werner; 18. Kris Moore; 19. Ty Williams; 20. Ross Essenburg.