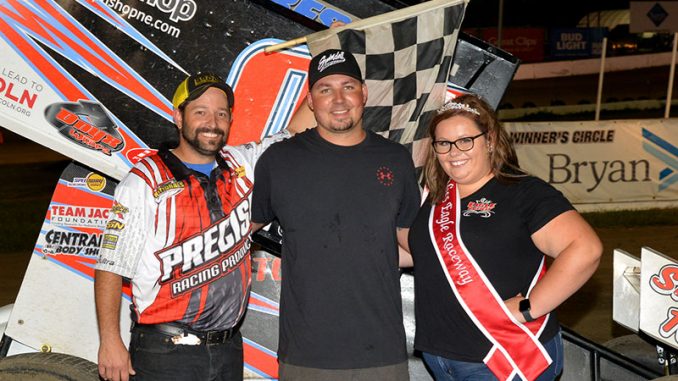 By Greg Soukup
EAGLE, Neb. (Sept. 8) – Trevor Grossenbacher parked a great car in victory lane Sunday night, following the finale of the Precise Racing Sprint Series of Nebraska at Eagle Raceway.
Grossenbacher's $700 Nebraska Cup checkers came ahead of Jake Bubak and Jason Martin.
"It was a lot of fun tonight. Rick Forbes is the car owner and it took all year long to finally get a win for him," said Grossenbacher, runner-up at RaceSaver Nationals the previous week, "The feature was awesome. It was close at the end with lapped traffic but we had a great car."
Kaleb Johnson led lap one with Grossenbacher, Mike Boston and Chad Koch rounding out the top four. Koch passed Boston for third on lap two and Joey Danley got by Boston for fourth on the next lap.
Danley moved up to third 2 laps later. Lap 11 saw Martin put his IMCA RaceSaver Sprint Car into fourth. Grossenbacher used the high line to take the top spot on lap 14.
There were 10 laps left when Boston went up and over in turn two, bringing out the red flag. Mar­tin advanced to third two laps after the restart, lost the spot to Danley on the next lap but jumped up to second after another circuit as Bubak put his ride into fourth. Bubak moved up to third the next lap.
Martin pulled a huge move going into the first set of turns on the final lap but failed to make it stick, allowing Bubak to move up to second.
Feature results – 1. Trevor Grossenbacher; 2. Jake Bubak; 3. Jason Martin; 4. Joey Danley; 5. Tyler Drueke; 6. Chad Koch; 7. Adam Gullion; 8. Doug Lovegrove; 9. Stuart Snyder; 10. Kaleb Johnson; 11. Jason Danley; 12. Toby Chapman; 13. Gene Ackland; 14. Ryan King; 15. Shayle Bade; 16. Tim Hilfiker; 17. Boyd Peterson; 18. Mike Boston; 19. Josh Riggins; 20. Mike Moore.