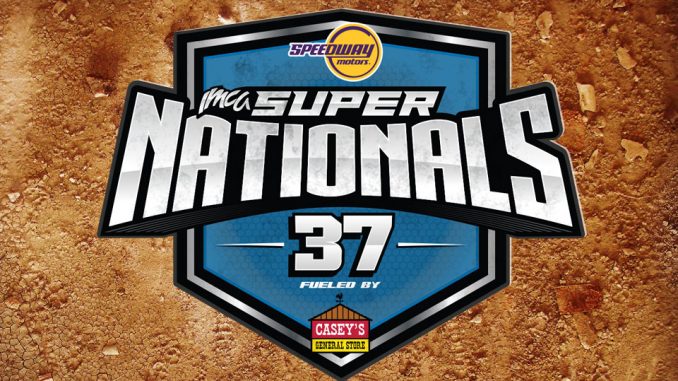 BOONE, Iowa – Great dirt track drivers will take home shares of a great purse at the 37th annual IMCA Speedway Motors Super National fueled by Casey's. 
Nearly $300,000 will be paid out to competitors at the upcoming Super Nationals, scheduled Sept. 2-7 at Boone Speedway. Another $60,000 in contingencies will be awarded to Modified, Late Model, Stock Car, Hobby Stock, Northern SportMod and Sport Compact drivers.
"So many elements have gone into making and maintaining Super Nationals as the premier event for weekly IMCA racers," observed IMCA President Brett Root. "Our goal has always been to keep entry fee and admission costs at reasonable levels while continuing to provid­e the best possi­ble purse structure that attracts and benefits the weekly IMCA racer the most. The Weekly Racing bonus accomplishes just that. We welcome all racers to attend but our bonus is geared toward IMCA's most loyal racers."
"Over the years," he continued, "we have been able to accomplish that because of the great contin­gency award support given by IMCA spon­sors."
The Saturday, Sept. 7 Modified main event boasts a potential $7,000 paycheck for the winner. That includes a guaranteed $2,000 plus a $100 bonus for each of as many as 50 sanctioned starts made during the season.
Every driver starting the Modified Big Dance earns $1,000.
Saturday's Stock Car main event boasts a $3,500 top possible check. The winner goes home with $1,000 plus a bonus of $50 for each of as many as 50 sanctioned starts.
Winning Monday's Deery Brothers Summer Series main event could also be good for as much as $3,500. The Late Model tour event pays a guaranteed $2,000 to win, plus a bonus of as much as $1,500 based on $30 for each of as many as 50 starts.
Potential payday for the Northern SportMods on Saturday is $2,250. That main event pays a guaran­teed $1,000 to win plus a bonus of $25 for each of up to 50 starts this season.
Top prize for the Hobby Stocks could reach $1,850. They'll race for $600 to win their Saturday night main and the bonus of $25 per start up to 50.
The champion of Tuesday's Sport Compact main event could bank as much as $500. They'll get a guaranteed $250 plus a $5 bonus for each of up to 50 starts.
Modified drivers are guaranteed $300 providing they race each night Wednesday through Satur­day. Stock Car drivers are guaranteed $200 if they race Wednesday, Thursday and Friday.
All purse money is posted and paid at the event; Super Nationals champions' bonuses will be presented during the national awards banquet in Lincoln, Neb., in November.