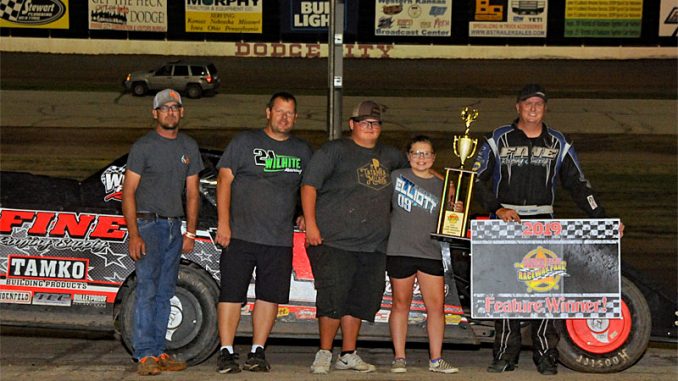 By Lonnie Wheatley 
DODGE CITY, Kan. (Aug. 24) – Robert Elliott became the fifth different winner of Dodge City Race­way's IMCA SportMod Mayhem event by racing to victory lane in Saturday night's 30-lap feature.
Elliott pocketed $1,000 by winning the sixth annual event after taking command at midway and holding off Dakota Sproul and Blaine Walt.
Race Elliott and Ryan Kirchoff led the way to the initial green flag. Robert Elliott worked his way forward from seventh with Walt bolting from fourth to take the lead away from Race Elliott on the second lap.
Robert Elliott made his way to third by the fourth round behind Walt and Sproul and then pounced on the second position following a lap seven restart. He stalked Walt over the ensuing rounds before battling into the lead on the 16th circuit
Sproul moved into second behind Elliott on a restart and pressured for the point the rest of the way, working the high side as Elliott circled the bottom of the track. Elliott was up to the task, keep­ing his chasers at bay all the way to the checkered flag.
Elliott crossed the stipe ahead of Sproul, who raced from ninth, with Walt on the podium in third. Troy Boynum was fourth with Jeff Kaup racing from 12th to round out the top five.
Feature results – 1. Robert Elliott; 2. Dakota Sproul; 3. Blaine Walt; 4. Troy Boynum; 5. Jeff Kaup; 6. Matthew Crowell; 7. Mitch Boesel; 8. Mike Roach; 9. Brendyn Nordyke; 10. Brian May; 11. Shay Simoneau; 12. Race Elliott; 13. Freddy McCoy; 14. Kyle Wiens; 15. Shannon Maughlin; 16. Ryan Kirchoff; 17. Mike Lunow; 18. Jarett Lunow; 19. Kaleb Roach; 20. Brandon Wise.