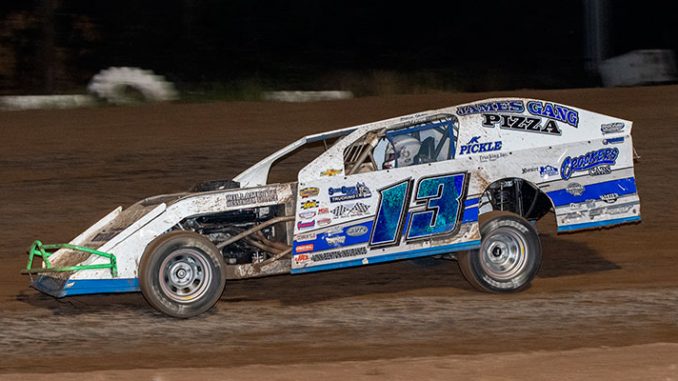 By Ben Deatherage
COTTAGE GROVE, Ore. (Aug. 24) – The top driver in Shaw Race Cars Western Region stand­ings raced to the top payday of his IMCA Modified career Saturday at Cottage Grove Speedway.
Bricen James got the best of 40-plus Mark Howard Memorial Modified Nationals foes from across the Pacific Northwest in earning the $2,600, 2020 Fast Shafts All-Star Invitational ballot qualifying vic­tory.
Collen Winebarger ended in second after running down and challenging the leader for the vast majority of the event.
James took advantage of the pole start and put his mount in front of the rest of the field to lead the first lap. He had some fast company behind him but numerous cautions over the first 26 cir­cuits took lapped traffic out of the picture.
The second half of the feature became an all-out battle for the top spot. James briefly lost the lead with a handful of laps remaining before reclaiming the position on the next corner.
James held all challengers at bay to win his first career Mark Howard Memorial Modified Nation­als. He is the seventh different driver to have had such an honor of accomplishing such a feat. It is also his fourth win of the season at Cottage Grove, which ties him for the most wins in the divi­sion this year.
Rounding out Saturday's top five were Nick Trenchard, Chad Groves and B.J. Wild.
It was non-stop action in the Karl Kustoms Northern SportMod feature. Tanner Krohling set the tone early and was the trailblazer for the first seven laps. Isaac Sanders made it around Krohling on lap eight and pulled away for the rest of the field.
Sanders showed a lot of speed but had his hands full in the last couple of laps. Jorddon Braaten made a final lap gamble to beat Sanders to the line and pick up the victory. It was the fourth local win for Braaten, which also ties him for the most in 2019 in the division locally.
Sanders finished second while Krohiling ended his night in third.
Feature Results
Modifieds – 1. Bricen James; 2. Collen Winebarger; 3. Nick Trenchard; 4. Chad Groves; 5. B.J. Wild; 6. Jake Mayden; 7. Dustin Cady; 8. Mark Carrell; 9. Grey Ferrando; 10. Aaron Sheelar; 11. Paul Rea; 12. Jimmy Whisler; 13. Kevin Williamson; 14. Eston Whisler; 15. Steven Sturdevant; 16. Andy Freeman; 17. Gus Cooper; 18. Evan Britton; 19. Ray Bloom; 20. Jesse Williamson; 21. Derick Young; 22. Matt Jenner; 23. Curtis Towns; 24. Ryan Baker.
Northern SportMods – 1. Jorddon Braaten; 2. Isaac Sanders; 3. Tanner Krohling; 4. Jordan Henry; 5. Matt Sanders; 6. David Schmidt; 7. Braxton Possinger; 8. Daniel Ray; 9. Doug Coffman; 10. Aaron Bloom; 11. Donald Bandfield; 12. Skyler Winebarger; 13. Wyatt Westfall; 14. Travis Pruitt; 15. Mike Wilcox; 16. Shawn Hand; 17. Brandon Wilson; 18. Gavin Ropchan; 19. K.C. Scott; 20. Justin Ryker.