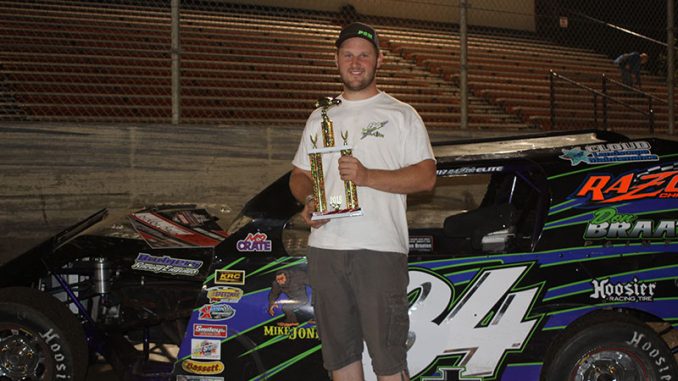 By Ben Deatherage
CENTRAL POINT, Ore. – It was a fantastic weekend of racing for Jorddon Braaten last Friday and Saturday night as the Central Point, Ore., chauffeur took home the Karl Chevrolet Northern SportMod winner's checks on both nights at two different venues.
The weekend kicked off July 27 at Willamette Speedway. The night started off by Braaten being third quick and finishing second in the heat. In the main event, Braaten seized the lead after a lap five restart. From there on he simply dominate the field for his fifth win of 2018 at Willamette.
"This car is working well and that  really make job way easier," commented Braaten. "The last half of the race I was having fuel pressure problems for some reason but other than that the car han­dled good and felt really good."
The team traveled south on Saturday to Cottage Grove Speedway on Saturday, where Braaten set quick time in time trials and was the runner-up in his heat race.
He patiently worked his way to the front after starting toward the back of the feature. In the final seven laps he duked it out in an epic battle for the lead with Matt Sanders. The two had an in­tense seesaw struggle before Braaten secured the lead on the final lap to win his seventh race at CGS this year.
"I got to give Matt a lot of credit for making it exciting side-by-side for so long, that's what makes racing fun," he said. "I couldn't get out of (turn) four that good, but I was really good going into one. Once I finally figured four out I knew we had a good shot at winning it."
Braaten and team will travel back to Cottage Grove Speedway this Saturday, Aug. 4.  He will hope to add another trophy to the case at the end of the night and extend his point lead.
His sponsors this season include Quench & Drench Car Wash, Miller Paint Company, Seven Feath­ers Casino & Resort, Don Braaten Painting, Rodgers Racing Engines, Medford Metal Works, Aardvark Construction and Mike Jones.