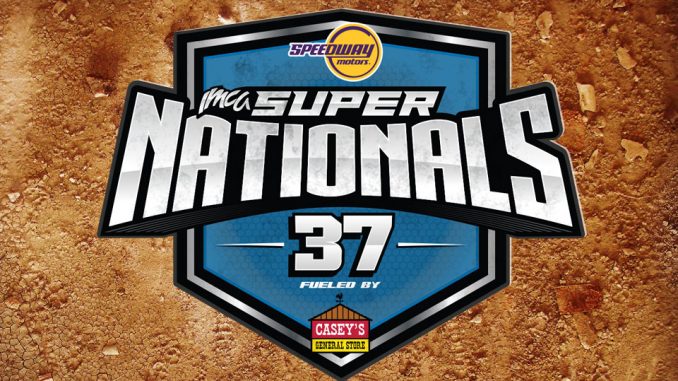 BOONE, Iowa – Dirt track racing heroes will be celebrated at an event that already has a Super Heroes theme.
Boone Speedway hosts the 37th annual IMCA Speedway Motors Super Nationals fueled by Ca­sey's on Sept. 2-7. More than 600 drivers from across the United States, and from Canada and Australia as well, have already pre-entered.
"Super Nationals is a bucket list event for most drivers," IMCA President Brett Root said. "Qualify­ing for a 30- or 33-car feature field when there are 200-plus entries is an accomplishment most racers should hang their hat on."
Early Modified entry numbers have already topped 200 while Stock Car entries are nearing the division record 193 that competed at the 2015 Super Nationals.
The richest event in grassroots racing will see nearly $300,000 paid out, plus another $60,000 in contingency awards.
Late Models following the Deery Brothers Summer Series headline the opening night show on Labor Day. The complete Sport Compact program is Tuesday, Sept. 3.
The Fast Shafts All-Star Invitational tops the Friday, Sept. 6 card. Modified, Stock Car, Hobby Stock and Northern SportMod races of champions and main events bring the week to a close on Saturday, Sept. 7.
With Weekly Racing Bonuses included, potential winner's paydays are $7,000 for the Modifieds, $3,500 for both the Late Models and Stock Cars, $2,250 for the Northern SportMods, $1,850 for the Hobby Stocks and $500 for the Sport Compacts.
"The purse structure is designed to benefit the drivers who best support IMCA and our weekly sanctioned tracks," noted Root. 
Five1seven Designs gives replica door panels to Modified and Northern SportMod main event qualifiers while Stock Car, Hobby Stock and Sport Compact qualifiers all receive replica hoods.
Racing begins at 2 p.m. Monday through Friday and at approximately 3 p.m. on Saturday.
Modified, Stock Car, Hobby Stock and Northern SportMod drivers must be registered for Super Nationals by Aug. 29 to compete in the Saturday, Aug. 31 Wild Rose and Casino Resort Prelude special at Boone.
Hot laps are at 6 p.m. with racing to follow that evening. The Modified feature pays $1,000 to win while Stock Cars run for $500 to win, Northern SportMods for $400 and Hobby Stocks for $250.
Sunday, Sept. 1 pre-tech runs from 10 a.m. to 4 p.m. with an open practice from 5-7 p.m. Cody Hicks returns to the pit area stage for an 8 p.m. concert that evening. 
"While racing remains the focus at Super Nationals, there are a number of activities off the track that drivers and fans can participate in," Root said. "Both a bag toss tourney and BBQ championship are new this year and the Duffers' golf tourney is on Friday."
Super Heroes is the theme for the best appearing car contest. Both Modified and Northern SportMod division winners receive trophies and Speedway Motors gives $100 gift cards to all driv­ers entering the contest. The Modified winner receives a steering box from Sweet Manufactur­ing.
Saint's Avenue Café will serve breakfast in the pit area from 9 a.m.-1 p.m. on Sunday, Sept. 1 and from 8-11 a.m. Monday through Saturday, Sept. 2-7 on the grandstand side of the speedway.
Both the Prelude and the complete week of Super Nationals will be broadcast by IMCA.TV.