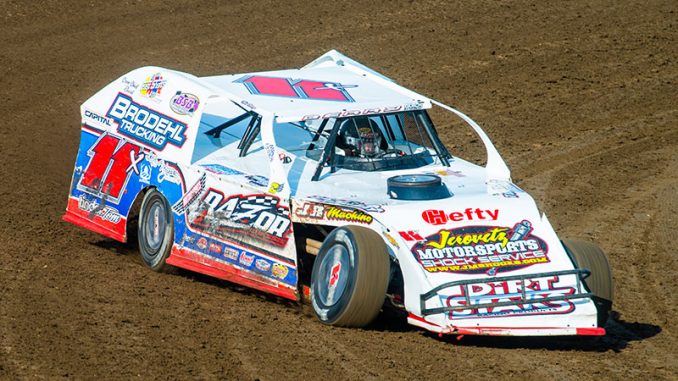 NEWBURG, N.D. – He's already had a season full of career highlights, but Tom Berry Jr. will be looking to raise the bar again at the IMCA Speedway Motors Super Nationals fueled by Casey's.
"We're going to go to Boone with the goal of making the show. Once you qualify, you can race hard and try to win the thing," said Berry, from Newburg, N.D., and most recently winner of Han­cock County Speedway's Night of 10,000 Stars IMCA Modified man event. "We're already in the Fast Shafts All-Star Invitational and are eligible to qualify for the Harris Auto Racing Race of Champi­ons. I think we're going to have a pretty good week."
The Oregon native began racing in the Midwest in 2016. He now lives in North Dakota, girlfriend Mayce Brodehl's home state, and works for a construction company.
Running with many of the top shoes from North Dakota as well as the region and nation, he won 10 of his first 25 IMCA Speedway Motors Weekly Racing starts this season, with another dozen top five finishes for good measure.
"We've got a brand new car (a 2019 Razor), Mayce's dad helps me a bunch and we have in­vested a lot of money in this. Our program is not slacking. We put in the time in the shop and it has paid off," Berry said. "Tracks are smooth and slick out here so you can really fine tune your car."
"We've learned so much about the car. I can feel the tiniest of adjustments," he continued. "We had to change a good amount of stuff when I went down to Iowa but I was able to do that be­cause of what we'd learned."
One of Berry's biggest wins came on opening night of the Kupper Chevrolet Dakota Classic Tour. Con­sistency throughout made him the tour champion.
"It was my fourth year running the tour. Not too many people win it," Berry said. "That was a pretty big accomplishment."
The winner of back-to-back Dirt Wars features at Estevan Motor Speedway, he finished second three straight nights – at the Harris Clash at Deer Creek on Aug. 6, in the Arnold Motor Supply Dirt Knights Tour at Fairmont on Aug. 7 and at Night of 1,000 Stars on Aug. 8 – before collecting the Night of 10,000 Stars checkers and $7,000.
"I struggled the first three or four nights of the season but kept digging hard. It's helped to run against really good guys," said Berry, now well established as one of those top-tier competitors. "We've had a lot of success but I feel like part of that is because our luck factor has changed."
"I've probably drawn front row starts four or five times this season. I did it maybe three times from the time I was 15 until this year," he explained. "I've finally been redrawing three and four. When you start up there you have more clean air once you get out of the gate."
Berry thought hard before deciding on a pre-Super Nationals highlight to his 2019 season, finally setting on the week he spent in early August in Minnesota and Iowa.
"That whole week was pretty good," he said. "We drew last row starts for our heat every night ex­cept one and never ran outside the top three in any main event."