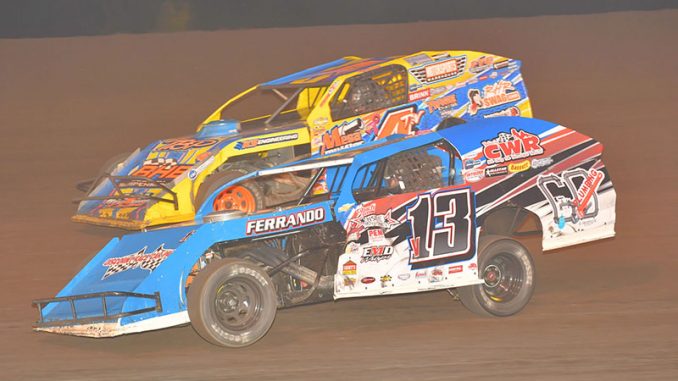 STAYTON, Ore. – Grey Ferrando made history last September as the first driver from Oregon to qualify for the Modified main event at the IMCA Speedway Motors Super Nationals fueled by Ca­sey's.
He'll return to Boone Speedway with the goal of making it back into the Big Dance and improving on his 16th place showing in 2018.
"It was cool to be the first Oregon driver to make it in," said the Stayton driver, who ran fourth in his Friday qualifying feature and was joined in the main event field by fellow home state pilot and Saturday last-chance qualifier Collen Winebarger. "We have a lot of good drivers out here and I'm sure they'd have a good chance to make it if they went to Super Nationals."
In his first trip to Boone and America's Racin' Vacation, Ferrando improved steadily wheeling a new ride, ultimately winning Friday's 13th heat.
Now in just his fourth season in the division, he'll return to the Midwest for midweek testing of a new Rage Chassis. He'll pick the car up again on his way to Super Nationals.
"I hope testing goes well," said Ferrando, looking to right the ship on a season that has seen more than its share of mechanical issues. "It's been one of those years when it seems like noth­ing goes right. We've been trying to find the right setup and cut down on the DNFs."
A Cottage Grove Speedway and Willamette Speedway regular, he's got one feature win so far this year.
September success at Boone Speedway, of course, will more than make up for the tough luck closer to home.
"Boone is a track that fits my driving style. I felt really fortunate to qualify last year. We had some luck and made it in our first time at Super Nationals and I was happy with that," Ferrando said. "We'd be doing pretty good to make it back in this year."