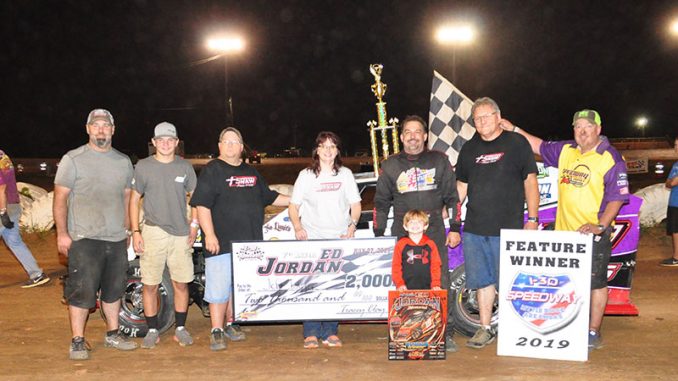 LITTLE ROCK, Ark. (July 27) – The already much-accomplished Jeff Taylor raced to a couple career firsts Saturday at I-30 Speedway.
Taylor gained the lead early and led the rest of the way, holding off Tyler Stevens following a late restart to win the seventh annual Ed Jordan Memorial IMCA Modified main event.
"I've won qualifiers and heat races here before but this was the first feature I've won at Little Rock," Taylor said following the $2,000, 2020 Fast Shafts All-Star Invitational ballot qualifying victory. "It seems like the last four or five races we were always one spot short and could never pull it off."
J.T Goodson, Clay Norris and Drew Armstrong rounded out the top five. Hard charger Dustin Hyde was sixth.
Taylor took the initial green from outside row two, caught Norris for the lead and led the frontrunners into traffic midway through the 30-lapper.
"We were just a shade better than Tyler. He's kind of worn us out this season," Taylor said. "We've run second in this race a couple times so being able to win it was neat. It's a sentimental win. I knew Ed and he was a good friend of the family, and because of the new Shaw deal."
Thirty-seven Modified drivers vied Saturday at I-30.
Feature results – 1. Jeff Taylor; 2. Tyler Stevens; 3. J.T. Goodson; 4. Clay Norris; 5. Drew Armstrong; 6. Dustin Hyde; 7. Randy Weaver; 8. Travis Mosley; 9. Keaton Atkinson; 10. Brad Calhoun; 11. Donnie Barnhart; 12. Bradley Busch; 13. Chris Carter; 14. Austin Carnley; 15. Chuck Sanders; 16. Jayson Hefley; 17. Jason Castleberry; 18. Arlen Stewart; 19. Shane Gibbons; 20. David Baser; 21. Troy Schaberg.