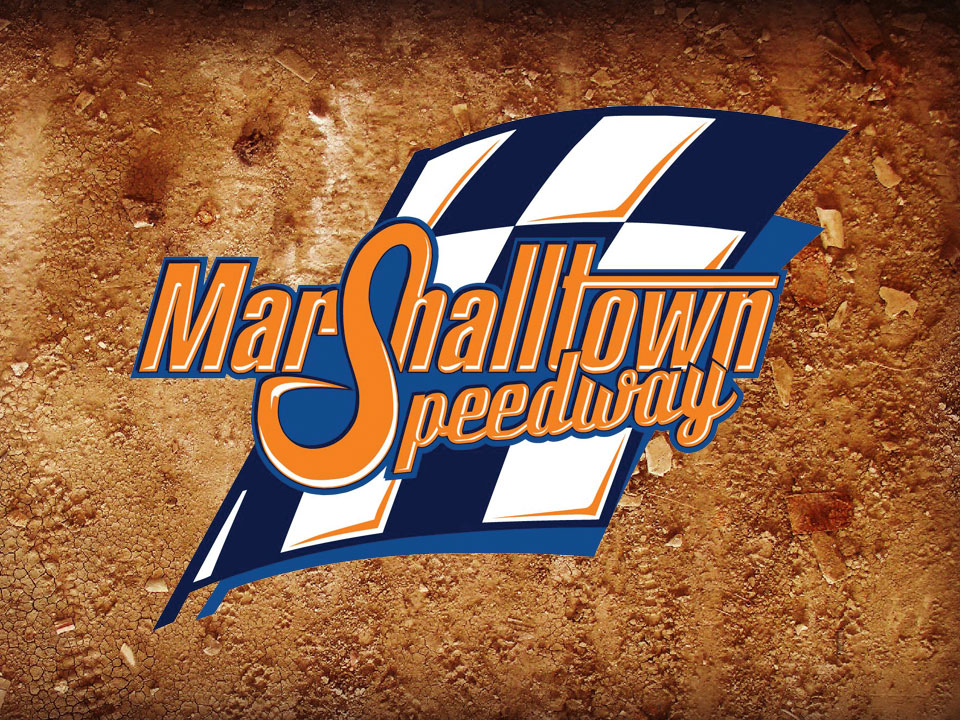 By Joyce Eisele
MARSHALLTOWN, Iowa (July 11) – Jeff Aikey put on quite the show at Marshalltown Speed­way's Dale DeFrance/Bill Davis Sr. Memorial, winning IMCA Modified and IMCA Late Model fea­tures to bring the curtain down on the Thursday show.
The finale was 44 laps of Late Model racing, in honor of the late DeFrance's car num­ber. Fittingly, his son Darrel drew the pole start, then led until Brian Harris nosed under him to take over at lap five.
Harris soon had Richie Gustin to contend with, and after running side-by-side, and a couple of slide jobs, Gustin made it stick and took over the lead. The race was far from over however, as a pair of no. 77 cars came calling.
Visiting York, Neb. racer, Cory Dumpert moved from 14th starting to run second and Aikey had moved from 19th starting to third. The closing circuits saw Aikey make his move and he took over the top spot.
He held on to the checkers and $1,500 payday. Dumpert was second, DeFrance took third, fourth went to Harris and Jeff Tharp came from 15th starting to score a top five finish.
Already on the Fast Shafts All-Star ballot, Aikey had taken a liking to the top of the track and sailed to the $1,100 Modified win. Ryan Gustin chased Aikey most of the distance but had to set­tle for second.
Todd Reitzler went home $1,000 richer after taking top honors in the IMCA Sunoco Stock Cars. Reitzler drew the pole and kept it out front the entire 18 laps. Damon Murty started 15th and ended second after a terrific late surge.
Leah Wroten got out in front quickly in the IMCA Sunoco Hobby Stock main but Eric Stanton had the lead at lap four. Stanton, who started sixth, never looked back from there on as he motored to the checkers. Wroten was second.
Brayton Carter started in the second row, took command immediately and warded off challenges from Jenae Gustin and then Jake McBirnie to take another Karl Kustoms Northern SportMod win at the High Banks.
Feature Results
Late Models – 1. Jeff Aikey; 2. Cory Dumpert; 3. Darrel DeFrance; 4. Brian Harris; 5. Jeff Tharp; 6. Andy Nezworski; 7. Ben Seeman; 8. Charlie McKenna; 9. Curtis Glover; 10. Dalton Simonsen; 11. Shawn Cooney; 12. Gary Webb; 13. Jill George; 14. Randy Faux; 15. Todd Johnson; 16. Greg Kastli; 17. Bryce Carey; 18. Kyle Hinrichs; 19. Kyle Krampe; 20. Jenna Johnson
Modifieds – 1. Jeff Aikey; 2. Ryan Gustin; 3. Ethan Dotson; 4. Richie Gustin; 5. Zack Vander­beek; 6. Ronn Lauritzen; 7. D.J. Shannon; 8. Tim Ward; 9. Josh Gilman; 10. Ethan Braaksma; 11. Kollin Hibdon; 12. Todd Shute; 13. Jared Van Deest; 14. Jacob Murray; 15. Thor Anderson; 16. Tony Cox; 17. Rod Clement; 18. Jimmy Gustin; 19. Sam Wieben; 20. Anthony Hofbauer.

Stock Cars – 1. Todd Reitzler; 2. Damon Murty; 3. Steve Meyer; 4. Shawn Ritter; 5. Kyle Everts; 6. David Atcher; 7. Dallon Murty; 8. Jared Daggett; 9. Scott Rice; 10. Patrick Graham; 11. Andrew Burg; 12. Jeff Wollam; 13. David Brandies; 14. Jeff Mueller; 15. Jerry Schipper; 16. Dustin Vis; 17. Jay Schmidt; 18. Donavon Smith; 19. Austin Even; 20. Kenzie Ritter.
Hobby Stocks – 1. Eric Stanton; 2. Leah Wroten; 3. Kaden Reynolds; 4. Jamie Coady; 5. Zach Hovell; 6. Ben Newhouse; 7. Adam Ayers; 8. Luke Bird; 9. Stoney Leonard; 10. Jeremiah An­drews; 11. William Bonnett; 12. William Klosterman; 13. Ray Fees; 14. Butch Lester; 15. Scott Ellis; 16. Mitchell Thomas; 17. Colton Wersinger; 18. Andy Peck; 19. Dan Brady.
Northern SportMods – 1. Brayton Carter; 2. Jake McBirnie; 3. Jenae Gustin; 4. Travis Peterson; 5. Cam Reimers; 6. Cory Van Zante; 7. Johnathon Logue; 8. Austin Schrage; 9. Kyle Olson; 10. Josh Sink; 11. Tony Olson; 12. Travis Storjohann; 13. Brady Hilmer; 14. Frank Packer; 15. Kyle Bentley; 16. Brian Lepa; 17. Jason Pansegrau; 18. Ronnie Hults; 19. Michael Parcel; 20. Bill Wears; 21. Curt Hilmer; 22. Andrew Sneller; 23. Bill Hildreth.