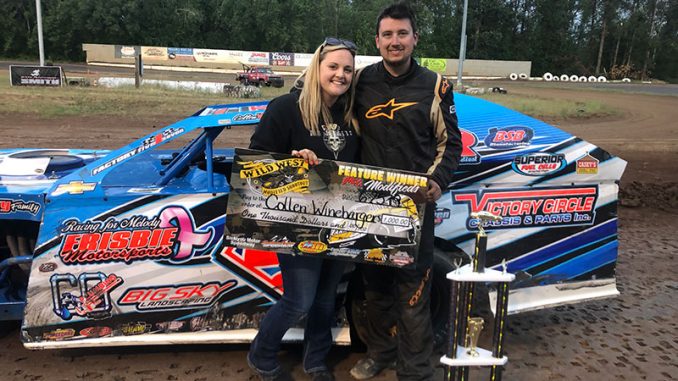 By Ben Deatherage
COTTAGE GROVE, Ore. (June 25) – The late-race scenario was the same Tuesday but this time Col­len Winebarger held Kellen Chadwick in check to win the Wild West IMCA Modified Shootout feature at Cottage Grove Speedway.
Chadwick had reeled in Winebarger in lapped traffic late for the Monday victory at Cottage Grove. Winebarger caught up with the back of the pack again on Tuesday, but held on to earn his third tour feature of the week and another $1,000.
Chadwick was a close second while Jake Mayden ended his evening in third. Bricen James col­lected a fourth while posting a fifth-place result was Gus Cooper.
Cooper had motored his way to the front of the field in the opening laps before getting passed on lap four by Mayden.
The lone stoppage of the race was a caution on lap nine bunching the field right up. Shortly after the restart, Winebarger maneuvered around Mayden and took over the role as the trailblazer.
Winebarger set a torrid pace in open racetrack and as in the previous night's event, soon faced heavy lapped traffic as Chadwick began to bear down.
Winebarger kept his California challenger behind him, however, for his series career feature win. That ties him with Alex Stanford for second on the all-time tour wins list.
The fifth race of the tour boasted a 2019 series-best car count of 45 entries, from five states and British Columbia.
Feature results – 1. Collen Winebarger; 2. Kellen Chadwick; 3. Jake Mayden; 4. Bricen James; 5. Gus Cooper; 6. John Campos; 7. Derick Young; 8. Jesse Williamson; 9. Joey Tanner; 10. Jus­tin Duty; 11. Curtis Towns; 12. Matthew Drager; 13. Jake Pike; 14. Grey Ferrando; 15. Shane Devolder; 16. Jeffrey Hudson; 17. Mark Carrell; 18. Dave Duste Jr.; 19. Jeff Faulkner; 20. Carl Berendsen; 21. Danny Lauer.