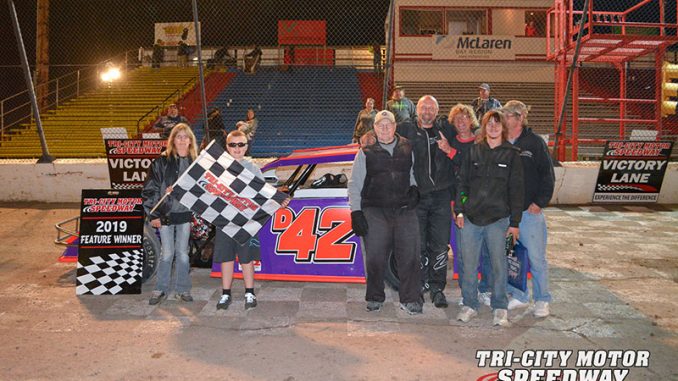 By Roger M. Williams
AUBURN, Mich. (June 7) – Craig Vance won the makeup feature and Don Sautter raced to his first win on dirt Friday at Tri-City Motor Speedway,
The Allstar Performance IMCA Modified drivers had some extra work to take care of at the June 7 show at Auburn, first of all completing the feature rained out from the previous week.
Vance slipped into the lead early and never looked back as he started the evening picking up his first feature win of 2019. He also dominated the field in his heat race and looked like he had a legitimate chance to sweep all of his races that night.
However, it was another no. 42 that stole the spotlight in the second feature for the Modified class. No. D42 Sautter, a long-time veteran in asphalt racing, had his own tough luck over the past 10 years since switching to dirt racing.
Sautter, who had yet to win a feature on dirt, took the lead from row three on the first lap. He commit­ted to the low groove for the majority of the race. A few bobbles knocked him back as far as fifth but he was able to fight his way back to steal the lead from Matt Szecsodi with three laps to go.
Sautter the held off a tenacious Szecsodi to pick up his first dirt feature win.