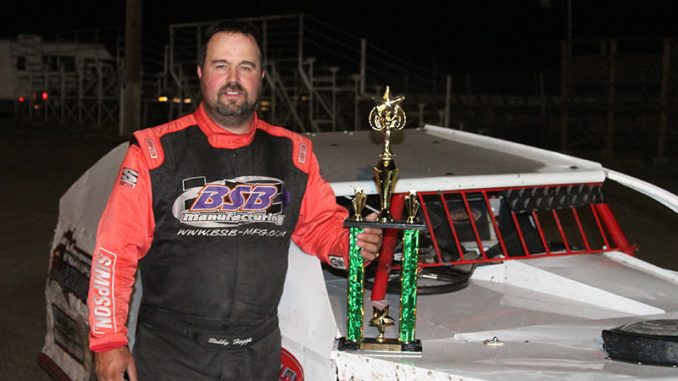 By Don Martin II 
WHITE CITY, Ore. (June 1) – Another visit to Southern Oregon Speedway resulted in another IMCA Modified victory for Bobby Hogge IV. 
Hogge won the seventh annual Roger Haudenshild Tribute race for the IMCA Modifieds Saturday at White City. The California speedster piloted his backup car to the Modified checkers and drove a Paul Guglielmoni-owned late model to the winner's circle as well. 
"This is a track that can be challenging because of its unique characteristics. You've got to pay attention there as a driver," said Hogge, who'd won the R. Charles Snyder Salute at Southern Oregon last September and was already on the Fast Shafts All-Star Invitational ballot. "It was definitely a good night for us. We went home happy campers." 
Hogge had drawn the pole with Crack The Whip winner Nick Trenchard starting eighth and trophy dash winner Zach Fettinger lined up in 11th. 
When the green flag waved, Hogge immediately moved into the lead ahead of rookie Justin Foux and Albert Gill. Two-time defending race winner Trenchard was already in fourth when the caution flag came out on lap six and took third from Gill on the restart. 
Fettinger was up to fifth by the time the final yellow flag waved on lap 12. Trenchard made an inside move in turn four of the 14th lap to take over second. Hogge continued to set a rapid pace as Fettinger made his move past Foux for third on lap 24. 
Hogge brought it home to a satisfying victory and Fettinger made a strong move on the inside in the final turn and beat Trenchard back to the line for second. Foux settled for fourth, followed by Jeffrey Hudson. 
The win was the second of the season and IMCA career 78th for Hogge. 
Jorddon Braaten picked up the 20-lap Haudenshild Tribute feature for Karl Kustoms Northern SportMods. The $1,600 payday matched his career best for the division and followed his third win of 2019. 
Also the trophy dash winner, Braaten led green to checkered after starting outside the front row. Tyler Rodgers was the runner-up and Fred Ryland was third. 
Thirty-two SportMod drivers came from as far south as the San Francisco Bay area for a shot at a nice payday. The Haudenshild family and Dusty's Transmissions added to the purse for both divisions.

Feature Results
Modifieds – 1. Bobby Hogge IV; 2. Zach Fettinger; 3. Nick Trenchard; 4. Justin Foux; 5. Jeffrey Hudson; 6. Preston Jones; 7. Jon DeBenedetti; 8. Albert Gill; 9. Jimmy Lipke; 10. Paul Guglielmoni; 11. Ray Kniffen Jr.; 12. Manny Freeman; 13. Bo Shields; 14. Steve Borror; 15. Jessie Bailey; 16. Duane Cleveland. 
Northern SportMods – 1. Jorddon Braaten; 2. Tyler Rodgers; 3. Fred Ryland; 4. Justin McCreadie; 5. Braxton Possinger; 6. Wyatt Westfall; 7. Jantzen Knipps; 8. Ethan Killingsworth; 9. Matt Sanders; 10. Brian Johnson;  11. Ryder Boswell; 12. Mike Medel;  13. Jesse Skidmore; 14. Steve Sanders; 15. Patti Ryland; 16. Isaac Sanders; 17. Brandon Wilson;  18. Brian Cooper; 19. Willie McFall; 20. Dwayne Melvin.