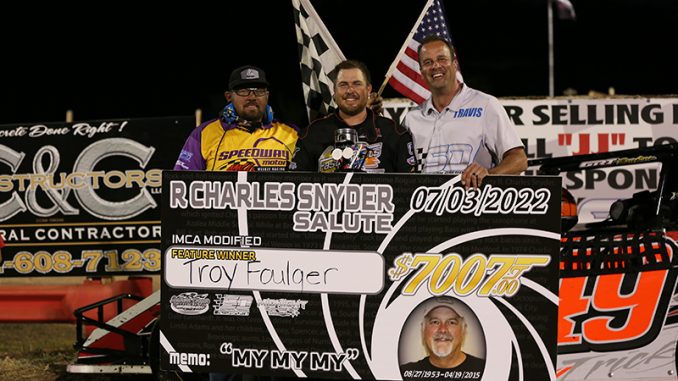 MEDFORD, Ore. (July 3, 2022) – Troy Foulger called his victory at Southern Oregon Speedway's fifth annual R. Charles Snyder Salute his "third good win" in a Friesen Performance IMCA Modified this season.
The Sunday checkers were also good for $7,300, making it his career biggest payday.
The California speedster started ninth after missing the redraw by one spot, caught Cory Sample and then Bricen James for the lead with a dozen laps or so to go, then held onto the front spot following a caution late in the 40-lapper.
"Five thousand dollars had been our career best when we won the inaugural Snyder race and we ran second last year, so it was nice to improve one spot," Foulger said. "There were a lot of heavy hitters here."
Bobby Hogge IV was the runner-up and hard charger Mark Wauge motored from 16th starting to third. James and Sample completed the top five.
The first caution came after midway and at just the right time, said Foulger, who was in lapped traffic and wasn't quite sure where he was in the running order.
He then restarted third, first catching Sample for second and then finding room on the bottom to eke past James for the lead.
"The last caution came out with four to go and my car was getting tight. I just stayed consistent and tried to keep hitting my marks," Foulger said. "It was good to see the white flag come out."
After taking the checkers and the big check, he loaded up and made the seven hour tow home to Oakley.
"It was amazing," said Foulger, already eligible to qualify for the Fast Shafts All-Star Invitational. "We're a little team. Bill Bowers gives me a good car. We've got good sponsors and my crew works really hard for me."
"It's great to see the effort they've put into the track at Southern Oregon," he added, "and making this race all it can be."
His first two "good wins" came in his home state, in a Central California Clash show at Tulare and at a weekly show in Antioch.
After rain on Saturday, the winner's share of the Sunday purse was upped from $7,007 and minimum start money for the main event was increased to $1,000.
Feature results – 1. Troy Foulger; 2. Bobby Hogge IV; 3. Mark Wauge; 4. Bricen James; 5. Cory Sample; 6. Collen Winebarger; 7. Nick Trenchard; 8. Jon DeBenedetti; 9. Jeffrey Hudson; 10. Grey Ferrando; 11. Albert Gill; 12. Tyson Blood; 13. Jesse Bailey; 14. Kaity Sample; 15. Jesse Williamson; 16. Ethan Dotson; 17. Aaron Crowell; 18. Buddy Kniss; 19. Zach Fettinger; 20. Chad Groves; 21. James Welshonse.