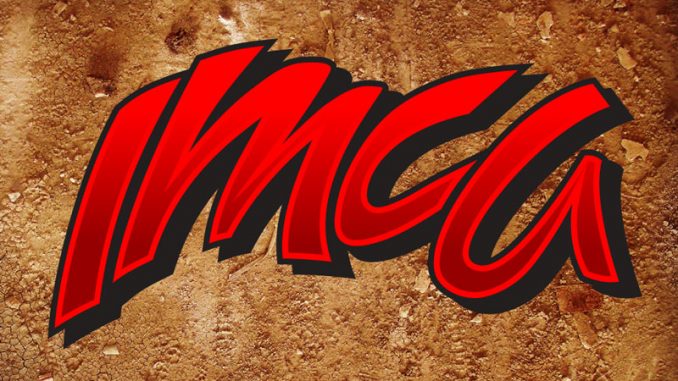 By Don Martin II
WHITE CITY, Ore. – It's time once again for the second annual R. Charles Snyder Salute for IMCA Modifieds at Southern Oregon Speedway.
The two-race weekend will again feature the IMCA Modifieds with a $5,000 to win, Fast Shafts All-Star Invitational ballot-qualifying prize being offered on Sunday, Sept. 2. Karl Chevrolet Northern SportMods and Southern Oregon Dwarf Cars will compete Satur­day and Sunday, Sept. 1 and 2.
The format calls for two sets of heat races for both Modified and SportMod divisions on Saturday that will score finishing points and passing points to determine the drivers who make the main event on Sunday and who will end up in 'B' and 'C' features. The top eight point runners in the heat races will redraw for their main event starting positions.
As an added bonus, Saturday will also have an invitational event for both classes that will offer prize money. The top 3-5 finishers in the first set of heat races will automatically make it into that race. This format was chosen rather than a race of champions for­mat as a way to allow all drivers an opportunity to compete for additional money at the end of the Saturday program. The Modi­fieds will pay $1,000 to win, with $700 for second, $500 for third and a minimum of $100 to start, while the SportMods will offer the regu­lar $300 to win prize money with a minimum of $50 to start.
Sunday's main events are where the money is on the line and the IMCA Modifieds are set to pay $5,000 to win as of this writing. The SportMods currently paying $1,000 to win and that number could go up by race day as well. The Modifieds will pay $2,500 for se­cond and $1,500 for third, and drivers receive at least $200 to start the main event. The SportMod main pays $700 for second and $500 for third, with a minimum of $100 to start. There will also be lap leader bonus money paid in both events.
Modified car and driver is $100 while the SportMod entry is $70. Pit passes are $35 each day. For further information, check out the official flier www.southernoregonspeedway.com/RCharles17.pdf  or www.southernoregonspeedway.com.
Saturday general admission is $15 for adults, $10 for seniors, veterans and juniors (ages 7-12) and free for kids six and under. Sunday admission is $20 for adults, $15 for seniors, veterans and juniors and free for six and under.
Gates open both days at 5 p.m. with the first race at 7 p.m.
Snyder was a popular local radio DJ for some 40 years who also lent his voice to several fundraising events and helped organize several big rock concerts. He was also considered the voice of Southern Oregon racing for many years as he announced at South­ern Oregon Speedway, Medford Speedway before that and other venues. He died in 2015 and the race tower was dedi­cated in his memory during the inaugural 2017 event.