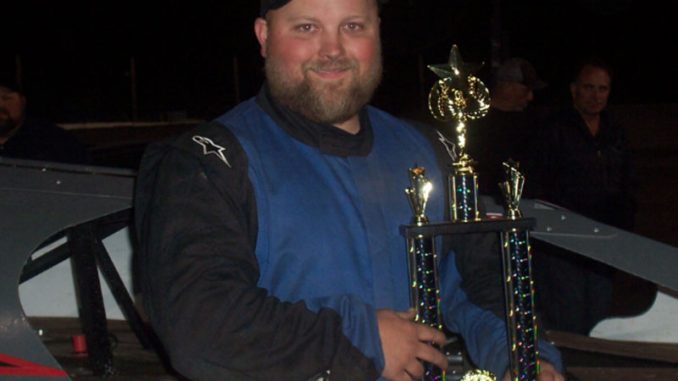 By Don Martin II
WHITE CITY, Ore. (Sept. 22) – Holding off late pressure from C.J. Putnam, Preston Jones scored the victory in the 25-lap IMCA Modified main event Saturday at Southern Oregon Speedway.
This was the first career win in the division for Jones.
Jones passed Jentzen Knips for the lead and was pulling away before a lap 15 caution. After a lap 17 yellow, Putnam made a serious bid to take the lead on the restart and grabbed the spot with an inside pass exiting the fourth turn.
The lead was short-lived, however, as Jones beat him back to the line to lead the 19th lap. The front two cars ran closely as Zack Fettinger had settled into the third position.
A multi-car tangle brought out the final yellow flag on lap 21. Jones led the restart with Putnam giving him all the pressure he could handle. Putnam attempted to get by several times in the remaining four laps, but Jones held him off for the hard-earned victory. Fettinger finished third.
Leading all the way, Doug Coffman won the 20-lap Karl Chevrolet Northern SportMod feature. He became the ninth different winner in the division this season at White City.