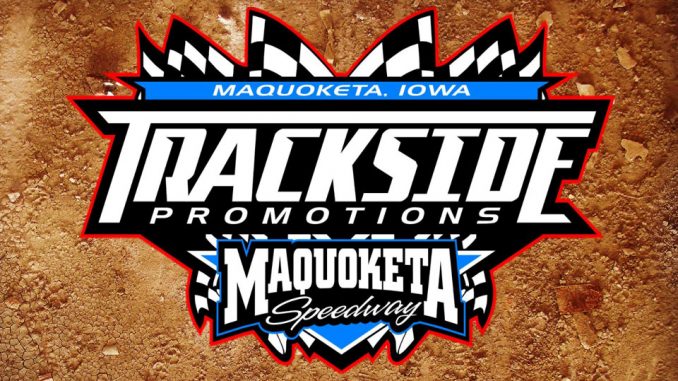 By Rob Hinckley
MAQUOKETA, Iowa (May 25) – It was revenge against Mother Nature.
A great crowd witnessed an overflowed pit area of 120 race teams Saturday evening at Maquoketa Speedway after no racing since May 4.
No one was more ready for a win than Andy Nezworski.
The Buffalo ace started out front, held off early challenges from Todd Malmstrom and then a charging Jeremiah Hurst to capture the season opener for the Andover Meat IMCA Late Models.
"It's an advantage starting up front, no doubt," Nezworski said in Hoker Trucking/C&W Trucking Victory Lane. "But you have to stay there and we were quick enough to hold them off."
Nezworski opened a quick advantage. Hurst moved to second about halfway through the 25-lapper and closed a half straightaway deficit as Nezworski hit traffic on lap 15. A pair of circuits later, the leader got into lapped traffic just in time for a caution to fly. The last eight laps belonged to Nezworski.
"I knew they would be coming in the traffic," the winner said. "The yellow worked out for us and we ran well out in the open."
Hurst, Jeff Aikey – driving Ryan Dolan's car – Matt Ryan and Malmstrom rounded out the top five.
Jeff Larson stayed hot, cruising to the QCJeeps.com IMCA Modified 20-lap win. Track champion Bryce Garnhart, Steve Johnson, Ray Cox, Jr. and Matt Short followed.
Tyler Soppe won a great battle with Jerry Miles and Gage Neal to continue his B&D Pit Stop IMCA Northern SportMod 15-lap feature streak. Soppe is now three-for-three in points races at Maquoketa this season.
Veteran Johnny Spaw topped a stout field of GRE/REV Chassis IMCA Stock Cars. He copped the 15-lap finale over track champ Donnie Louck, Tom Schmitt, Scott Jordan and Shane Richardson.
Schmitt took the Trackside Front Row Challenge and started at the back of the field. He fell just those two spots short of a cash bonus.
Kile Vohringer won a wild Shawn's Auto Service IMCA Hobby Stock 15-lap feature. He took to the high side and held off Daniel Wauters, Randy Byerly, Dakota Simonsen and Leah Wroten.