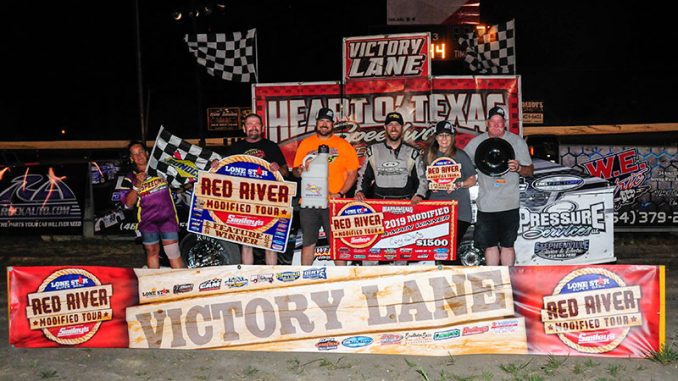 By Jackson Braun
WACO, Texas (May 26) – A late-race pass by Cory Davis of teammate Chris Elliott ex­tended the streak of new winners on the Lone Star Super Gas IMCA Red River Modified Tour presented by Smiley's Racing Products Sunday at Heart O' Texas Speedway.
Elliott got the lead on the initial start, with Cody Tidwell and then Chris Morris running in second.
With five laps remaining in the 25-lap contest, Morris took his shot in turn four. He made contact with the inside of Elliott's machine and spun himself out, ending a strong run. After a few restarts, Elliott shot back out to the lead, with Davis in pursuit.
The final restart occurred with three laps to go. Davis found a lane underneath Elliott, passed him coming to the white flag and then motored away to grab the victory.
"It was a good win for sure," Davis said of the $1,500, Fast Shafts All-Star Invitational ballot qualify­ing victory. "We had set a goal to win one feature and finish 1-2 at least one time and we were able to do that on the second night."
Trevor Raney led the Smiley's Racing Products Southern SportMod field to the start and made his way to the lead. A couple laps into the main event, Raney looped it in corner four, collecting Cole Dennis and D.L. Wilson.
This gave the lead to outside polesitter Bo Day, who was running Jimmy Day's no. 23M machine. Trevor Egbert managed to get underneath Day coming to the checkers but could not complete the pass, giving Day the win.
Jason Riddle and Jason Batt started point on the IMCA Sunoco Stock Car field. Batt jumped out to an early lead. Batt had his hands full with the Abbey brothers, as Dean, Westin and Jeffrey all were on the prowl.
After an incident took Jeffrey out of the race, Batt still had to deal with Dean and Westin. Once a green flag run got going in the latter half of the race, Dean made his way around the outside of Batt, taking the lead. Westin followed suit, going underneath Batt to move up into the second spot. Dean ended up holding off Westin to grab the checkers.
Feature Results
Modifieds – 1. Cory Davis; 2. Chris Elliott; 3. Fred Wojtek; 4. Tyler Stevens; 5. Drew Armstrong; 6. Kevin Green; 7. Jeff Hoegh; 8. Riley Simmons; 9. John Gober; 10. David Goode Jr.; 11. Chris Bragg; 12. Matthew Martin; 13. Josh McGaha; 14. Cody Tidwell; 15. Jeffrey Abbey; 16. Justin McCoy; 17. Chris Morris; 18. Brint Hartwick; 19. Beau Begnaud; 20. P.J. Egbert; 21. Mark Patter­son; 22. Chase Allen; 23. Jason Hunter; 24. William Gould.
Southern SportMods – 1. Bo Day; 2. Trevor Egbert; 3. Craig Oakes; 4. Jacob Pirkle; 5. Nick Clinkenbeard; 6. Kaden Honeycutt; 7. Gregory Muirhead; 8. Brandon Geurin; 9. Chris Cogburn; 10. Jake Upchurch; 11. Kyle Wilkins; 12. Garett Rawls; 13. James Skinner; 14. Mason Cas­taneda; 15. Kasey Kuykendall; 16. Donnie Hix; 17. Tanner Houston; 18. Cole Dennis; 19. Tyler Bragg; 20. D.L. Wilson; 21. James Guyton; 22. Blaine Shives; 23. Kevin Rowland; 24. Greg Fra­zer; 25. Trevor Raney.
Stock Cars – 1. Dean Abbey; 2. Westin Abbey; 3. Jason Batt; 4. Gary Williams; 5. Damon Ham­mond; 6. A.J. Dancer; 7. Dillon Smith; 8. Bryan Schutte; 9. Shelby Williams; 10. Billy Wade; 11. Lewis Blackwood; 12. Dennis Bissonnette; 13. George Egbert; 14. Jason Riddle; 15. Lee Riley; 16. Charlie Brown; 17. Jeffrey Abbey; 18. Markiss Harcrow; 19. Brandon Hood; 20. Lee Cranford; 21. Justin Wierenga; 22. Treven Geter; 23. Gary Kerr Jr.; 24. Drew Garcia; 25. Dustin White.