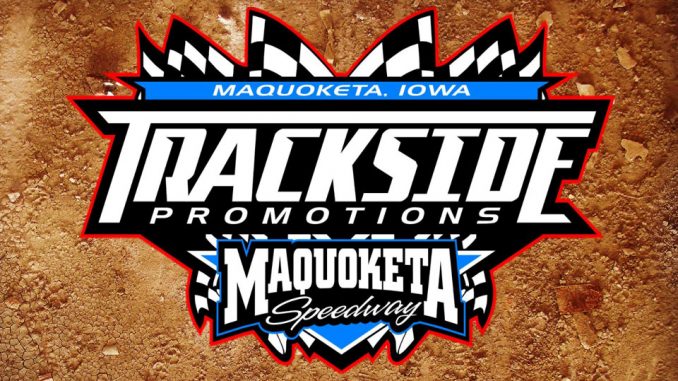 By Rob Hinckley
MAQUOKETA, IA (April 20) – He glanced low and high.
Travis Denning prefers the low groove at Maquoketa Speedway, but he made an exception Saturday evening.
Denning pulled the number one pill on the redraw and launched to a flag to flag, 20-lap QCJeeps.com IMCA Modified victory.
"I saw those guys coming and I usually don't like to run high," Denning said in victory lane. "But it worked when I had to use it and was great."
Brad Moring sped from the second spot and stayed there. Top runners Bryce Garnhart, Jeff Larson and Ray Cox, Jr. came next.
"Any one of these guys can win here," Denning added. "This is a great deal on a Saturday night – great competition."
Denning took home $700 on the night before Easter.
Tyler Soppe made it two straight in the B&D Pit Stop IMCA Northern SportMods. He cruised to the 20-lap win ahead of a charging Bruce Current, Jason Bahrs, Jerry Miles and Zach Maurer.
Terry Dulin took the early lead and went on to win the GRE/REV Chassis IMCA Stock Car 10-lap finale. Norman Chesmore, Tim Bader and Chase Zaruba followed.
Kile Vohringer shot to the high side, passed four cars in the last six laps and won the Shawn's Auto Service IMCA Hobby Stock 15-lap feature. Daniel Wauters, Kaden Reynolds, Leah Wroten and Bobby Taggart followed.
A total of 108 race teams from three states hit the track Saturday at Maquoketa.