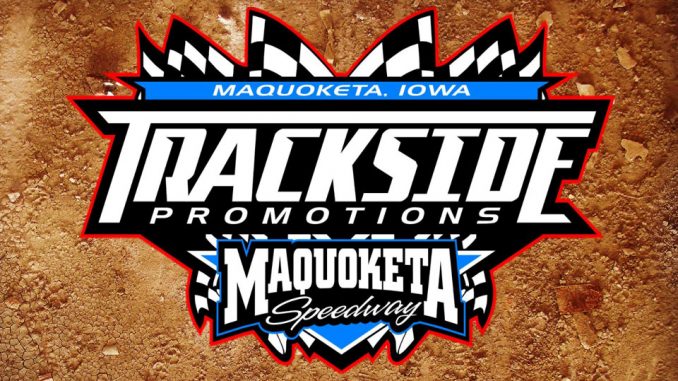 By Rob Hinckley
MAQUOKETA, Iowa (July 21) – The smile lit up a dark infield. The cheer of his fan base could be heard over the race cars on the cool down lap.
Saturday evening was quite a birthday celebration for Jed Freiburger. The Dubuque ace turned 35 and turned it into a QCJeeps.com IMCA Modified 20-lap feature win at Maquoketa Speedway.
"This is a great way to celebrate it," Freiburger said. "(Crew chief) Ron Barker made all the right calls and changes so it worked out well."
Freiburger started 10th and quickly raced to the top five. Following a couple early restarts and leader Jake Bowman retiring, Freiburger blew up to second behind Timmy Current at the halfway point, then made the pass.
The lead stretched, evaporated due to a late caution, but reopened as he cruised to the win. Frei­burger shook off noticeable noises from the car.
"I think it was just rocks or clods hitting the car. It was rough out there after the rain, but had plenty of car."
Bryce Garnhart started a row behind Freiburger and chased up to second ahead of Current, Matt Stein and Austin Blume.
Jeremiah Hurst waited out a wild Andover Meat IMCA Late Model 25-lap feature and went home with the W. Hurst was the third leader and raced away from Matt Ryan, Andy Nezworski, Doug Nigh and Jon Poll.
The top two in the B&D Pit Stop IMCA Northern SportMods finished just that way, only in reverse order. Tyler Soppe made up for a bad run last week and checked out to victory lane in the 15-lap­per. Gage Neal worked the traffic and made it up to second at the checkers.
Timmy Current made it two straight in the Ueland Auto IMCA Stock Cars. Tom Cannon stayed straight in a wild 15-lap main to take second. Donnie Louck, Jimmy Comins and Mike McGarry rounded out the top five.
Multi-time winner Greg Gill sped from the back twice, but finally had to go pit side late with a flat tire.
Daniel Wauters captured another IMCA Sunoco Hobby Stock 12-lap feature, beating visitor Adam Ayers, Randy Byerly, Kile Vohringer and Dakota Simonsen.