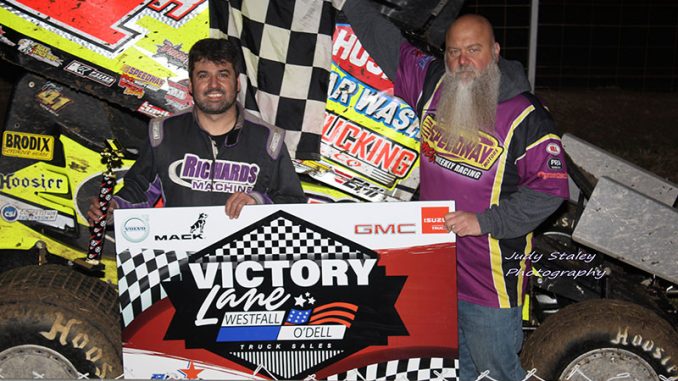 By Jacob Blair
OSBORN, Mo. (April 5) – US 36 Raceway roared back to life with the return of racing on Friday, April 5.
The IMCA RaceSaver Sprint Cars saw one of three defending champions earn their first win of 2019 as Matt Richards put together a wire-to-wire performance for the victory.
Toby Chapman made it interesting in lapped traffic before Richards was able to pull away. Chapman finished second, Mike Houseman Jr. third, Mike Moore fourth and Kenny Potter fifth.
Steven Bowers and Jeff James dueled back and forth in the closing laps of the IMCA Modified feature. Richard Spriggs led the early portion of the race before he faded in the closing stages. With Spriggs no longer pacing the field, James inherited the lead and brought Bowers with him to second.
Bowers consistently put in faster laps and caught James around the five to go mark. Bowers made his move and took the lead, just briefly. This move set up the early nominee for race of the year as the two traded the lead back and forth in the closing laps. Bowers found himself timing his final move right and rolled into Westfall GMC Victory Lane.
"He bobbled coming out of four and I got underneath him and got the lead," Bowers said. "I said I'd kind of go easy in turns three and four, didn't want to do the same mistake he did, but when he came in there wide open, I said we would either flip this thing or win it."
Jeff James finished second, Tyler Hibner third, Jim Masoner Jr. fourth and Clay Hale fifth.
Defending national champion Mike Nichols dominated the IMCA Sunoco Stock Car feature.
"The Stock Car class is tough no matter where you go," Nichols said. "Fortunately for me I asked my wife to draw a two tonight and she came back and said you got what you wanted."
One caution slowed the field, but Nichols resumed his steady pace out front on the restart. Lance Dixon kept Nichols honest but wasn't able to get close enough to make a challenge. Dixon finished second with Mich Ross third, Tim Eaton fourth and Blake Peeler fifth.
Steven Clancy, the defending Karl Kustoms Northern SportMod champion, continued last year's momentum by winning race one of the 2019 season. Clancy used a front row starting position and a mistake-free race en route to the win.
Josh Munsen finished second while Cade Richards had an impressive third place run after moving up from the E-Modified division. Randy Ainsworth finished fourth and Matt Andrews fifth.