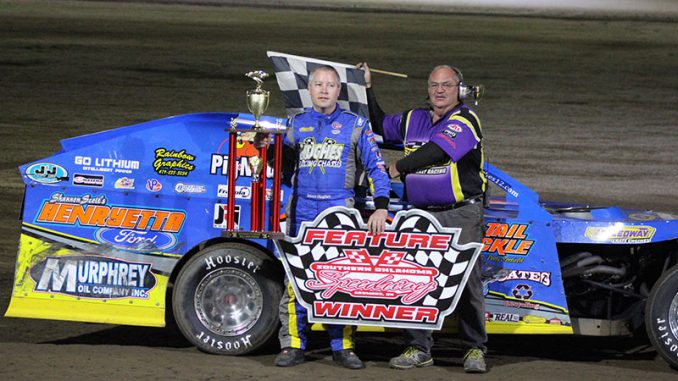 ARDMORE, Okla. (March 7-9) – Jason Hughes was a double winner before Ricky Thornton Jr. made his way to victory lane at Southern Oklahoma Speedway's Southern Stampede special.
New Fast Shafts All-Star Invitational candidate Hughes was the $2,000 IMCA Modified winner on Thursday and the $1,000 winner on Friday. Thornton paced Saturday's $3,000 to win event.
The IMCA car count for the second annual Stampede topped 100 and included 51 Modifieds.
Hughes had to reel in Jared Hoefelman for the opening night lead, then won ahead of Thornton and defending IMCA Red River Tour champion Chris Elliott.
The Sooner State speedster led every circuit on Friday. Thornton repeated as runner-up while Rodney Sanders rounded out the podium finishers.
"I'm happy with the weekend. Everything went pretty well," said Hughes. "We didn't tear anything up and we made some money."
Thornton had worked his way up from 10th starting on Thursday and from 12th starting Friday. He drew the pole for the Saturday show at Ardmore and led start to finish of the caution-free contest.
"It's awesome to come here and be able to do so well racing against so many good drivers," Thornton said. "We were able to get a pretty good idea how good the car was in traffic. It's exciting to know we have a really competitive car."
"Running with lapped cars got a little hairy at times but I was able to run anywhere I wanted to on the track," Thornton continued, adding a plug for promoters John and Nicky Webb. "I really like this facility and the payout for this event. This is definitely in the top 10 of all the tracks I've been to."
Thornton did double-duty as driver and crew chief, having made to trip to Ardmore with wife Shae and seven-month-old son Asher. Drew Armstrong, the seven-time E3 Spark Plugs Arkansas state champion, and his crew helped Thornton when more than one pair of hands was needed.
Hughes and Elliott completed the top three.
Jeffrey Abbey sandwiched $600 and $1,000 IMCA Sunoco Stock Car feature wins around Kyle Pfeifer's $500 feature win on Friday.
Jared Baird picked up $600 and $500 checks for Thursday and Friday Smiley's Racing Products Southern SportMod wins while Kyle Robinson collected $1,000 for his Saturday victory.
Abbey, the Modified track champion last season at Southern Oklahoma, started fifth on opening night, followed the top side of the track to the front before halfway and was not challenged from that point.
The current national point leader drew the pole on Saturday and outran Pfeifer for the big check.
"For sure it was quite a weekend," acknowledged Abbey. "It helped having raced there before and knowing what the track was going to do. That was definitely an advantage over drivers who had never been there before."
Pfeifer took the lead away from Abbey on the third lap of the Friday feature and led the last 18 times around the track in gaining his first win of 2019.
"We ran part of the Lone Star Tour and were planning to come to Ardmore because it looked like a fun track," the Kansas driver said. "The pay was pretty good and we decided 'Heck, we'll go find some warm weather.'"
Baird, another Ardmore regular, practiced for the first time Wednesday in his new 2018 Innovative Chassis, then won ahead of sponsor Don Reid on Thursday.
He used an early restart to his advantage on night two, racing from third to the lead and not looking back. He caught lapped traffic late but didn't slow down 'til the checkers flew.
"We weren't able to get the third win but we had a good weekend," he said. "The car was really good."
Robinson went to the higher line to take over the second spot, then darted inside Matt Beasley for the lead en route to Saturday's $1,000 Southern SportMod checkers.
"I ran third on Thursday and was sixth on Friday with a broken shock," he said, "so we were pretty competitive all weekend."
March 7 Feature Results
Modifieds – 1. Jason Hughes; 2. Ricky Thornton Jr.; 3. Chris Elliott; 4. Jared Hoefelman; 5. An­thony Roth; 6. Rodney Sanders; 7. Tanner Black; 8. Drew Armstrong; 9. Brendon Gemmell; 10. Eddie Belec; 11. Tyler Stephens; 12. Jesse Sobbing; 13. Jeremy Frenier; 14. Mike Hansen; 15. Matt Guillaume; 16. Travis Johnson; 17. Michael Ables; 18. David Murray Jr.; 19. Chad Melton; 20. Brandon Spanjer; 21. Chris Morris; 22. Jerad Herring; 23. Tripp Gaylord; 24. Jeff Larson.

Stock Cars – 1. Jeffrey Abbey; 2. Gary Williams; 3. Dean Abbey; 4. Kyle Falck; 5. Kyle Pfeifer; 6. Bryan Schutte; 7. Marcus Hahn; 8. Tyler Muirhead; 9. Blake Adams; 10. George Egbert; 11. Tommy Fain; 12. Lee Cranford; 13. John Oliver Jr.; 14. Casey McCallister; 15. Andrew Altenburg; 16. Buryl Norris.
Southern SportMods – 1. Jared Baird; 2. Don Reid; 3. Kyle Robinson; 4. Justin Whitehead; 5. Nathan Sexton; 6. Trevor Foley; 7. Terrell Evans; 8. Cullen Hill; 9. Tate Butler; 10. James Skin­ner; 11. Gregory Muirhead; 12. Brandon Ball; 13. Greg Moran; 14. Matt Beasley; 15. Devin Cham­bers; 16. Tyler Bragg; 17. David Gould; 18. Caleb Phillips; 19. Trey Willoughby; 20. Jimmie Wright; 21. David Bolf; 22. Chad Cox; 23. David Tanner; 24. Jimmy Day.
March 8 Feature Results
Modifieds – 1. Hughes; 2. Thornton; 3. Sanders; 4. Roth; 5. Jeff Taylor; 6. Armstrong; 7. Gay­lord; 8. Sobbing; 9. Stephens; 10. Belec; 11. Murray; 12. Hansen; 13. Brent Hartwick; 14. Larson; 15. Elliott; 16. William Gould; 17. Hoefelman; 18. Black; 19. Herring; 20. Frenier; 21. Spanjer; 22. Gemmill; 23. Travis Bragg; 24. Rick Green.
Stock Cars – 1. Pfeifer; 2. Dean Abbey; 3. Jeffrey Abbey; 4. Falck; 5. Fain; 6. Altenburg; 7. Hahn; 8. Cary White; 9. Egbert; 10. Oliver; 11. Kody Boatright; 12. Schutte; 13. Williams; 14. Ad­ams; 15. Matt Guillaume; 16. Cranford; 17. Steve Ott.
Southern SportMods – 1. Baird; 2. Cory Williams; 3. Whitehead; 4. Butler; 5. Dustin Robinson; 6. Kyle Robinson; 7. Hill; 8. Beasley; 9. Reid; 10. Chambers; 11. Ball; 12. Mike Brown; 13. Tan­ner; 14. Foley; 15. Bragg; 16. Wright; 17. Aaron Alley; 18. Jay Baggett; 19. Robert Cook; 20. Travis Penrod; 21. Bolf; 22. Sexton; 23. Day; 24. Colby Miller.
March 9 Feature Results
Modifieds – 1. Thornton; 2. Hughes; 3. Elliott; 4. Murray; 5. Black; 6. Stephens; 7. Frenier; 8. Belec; 9. Morris; 10. Johnson; 11. Gaylord; 12. Hoefelman; 13. Roth; 14. G.W. Egbert IV; 15. Mel­ton; 16. Armstrong; 17. Taylor; 18. Gould; 19. Chris Dawson; 20. Chris Bragg; 21. Guillaume; 22. Sobbing; 23. David McKay; 24. Gemmill; 25. Sanders.
Stock Cars – 1. Jeffrey Abbey; 2. Pfeifer; 3. Falck; 4. White; 5. Egbert; 6. Adams; 7. Altenburg; 8. Boat­right; 9. Hahn; 10. Williams; 11. Cranford; 12. Schutte; 13. Jackie Watterson; 14. Norris; 15. Ables; 16. Fain; 17. Oliver; 18. Tyler Kirkes; 19. Dean Abbey.
Southern SportMods – 1. Kyle Robinson; 2. Dustin Robinson; 3. Beasley; 4. Rowdy Day; 5. Bolf; 6. Ball; 7. Williams; 8. Hill; 9. Chambers; 10. Moran; 11. Brown; 12. Jeff Rowland; 13. Sex­ton; 14. Phillips; 15. Cook; 16. Gould; 17. Tanner; 18. Case Penrod; 19. Foley; 20. Blaine Shives; 21. Butler; 22. Baird; 23. Whitehead; 24. Bragg.