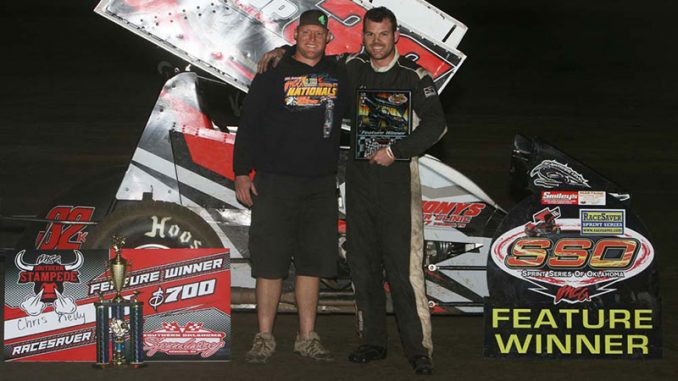 By David Smith Jr.
ARDMORE, Okla. (March 9 and 10) – Chris Kelly and Joe Wood Jr. followed different lines to the same destination when the Sprint Series of Oklahoma opened as part of Southern Oklahoma Speedway's Southern Stampede special.
Kelly found the bottom before all others as he took the lead near midway point and never looked back to claim the Friday feature and $700 in the IMCA RaceSaver series presented by Smiley's Racing Products/Hoosier Racing Tires Southwest lidlifter.
Wood took the lead early and cruised along the top side to Saturday's $750 checkers.
Running fourth on lap 10, Kelly quickly disposed of Blake Daccus for third and moved into the runner-up position by passing Gary Owens on lap 12. One lap later, Kelly powered past two-time defending series champion Andy Shouse.
Not even a heavy dose of lapped traffic on lap seventeen could detour Kelly as he would go on to claim his second career SSO victory by eight car lengths over Shouse. Kevin Ramey settled for third while Owens came home fourth and Daccus rounded out the top five.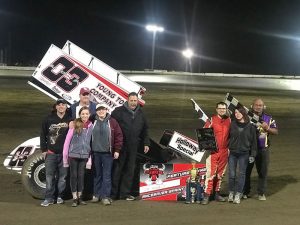 On Saturday, Wood got a run on the top side following an early yellow of and motored by Cody Whitworth for the lead. Michael Day made his way into the runner-up spot on the restart as well but by lap nine, Wood had opened a half-stretch advantage.
Caution flags on laps 14 and 15 slowed the pace before the last 10 laps went green-to-check­ered. Wood went unchallenged for his fourth career win with the series.
Day held off Ramey for the runner-up position while 18th starting Shouse came home fourth. Jus­tin Melton rounded out the top five for his best feature finish with the series.
Next up for the Sprint Series of Oklahoma will be the only scheduled appearance at the Garfield County Fairgrounds and Enid Speedway in Enid on Saturday night, March 31.
Feature Results
March 9 – 1. Chris Kelly; 2. Andy Shouse; 3. Kevin Ramey; 4. Gary Owens; 5. Blake Daccus; 6. Michael Day; 7. Austin Mundie; 8. Shane Sellers; 9. Brandon Jennings; 10. Shane Kleochler; 11. Loyd Clevenger; 12. Cody Whitworth; 13. Travis Scott; 14. Blake Scott; 15. Elliott Amdahl; 16. Duane Baker; 17. Dillon Laden; 18. Ty Williams; 19. Shayla Waddell; 20. Chad Koch.
March 10 – 1. Joe Wood Jr.; 2. Day; 3. Ramey; 4. Shouse; 5. Justin Melton; 6. Jennings; 7. Sellers; 8. Mundie; 9. Taylor Courtney; 10. Jessie Graham; 11. Laden; 12. Kelly; 13. Whitworth; 14. Chas Wilson; 15. Michelle Melton; 16. Daccus; 17. Travis Scott; 18. Tanner Conn; 19. Owen; 20. Bryson Oeschger.