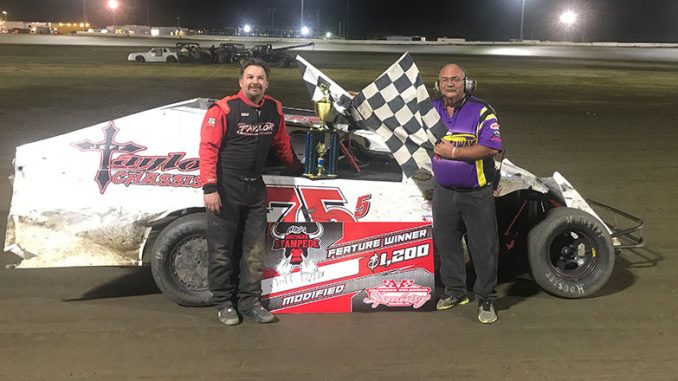 ARDMORE, Okla. (March 9-10) – 'B' qualifier Jeff Taylor brought his 'A' game to Southern Oklahoma's Speedway and nearly had a Southern Stampede sweep to show for his efforts.
Taylor ended in second on Friday after Brad Doherty's high-side heroics netted him the opening night IMCA Modified checkers. Taylor then dueled with Bren­don Gemmill before holding off Nick Roberts for the $1,200 victory on Saturday.
"I'd been to Ardmore before to help other guys but this was the first time I'd ever raced there. It's a very racy track," said Taylor, who started 19th on Friday and from the 13th spot on Saturday. "It was exciting. I had a good car both nights and was able to run wherever I wanted."
Taylor went from third to first with five laps left in the Saturday show. After a late restart, hard racing led to contact up front that took Gemmill out of contention. Roberts, William Gould, Jeffrey Abbey and Drew Armstrong rounded out the top five.
The battle for opening night honors and $1,000 appeared to be between Taylor and Spencer Wil­son before Doherty used the top side to steal the win away.
"All the other guys were fighting it out low and I didn't want any part of that," the new All-Star candidate said. "I figured I'd try to stay away from the traffic on the bottom."
Doherty, in a former Jordan Grabouski car purchased earlier this year, was running side-by-side with Taylor at the white flag and was about a car length ahead at the checkers.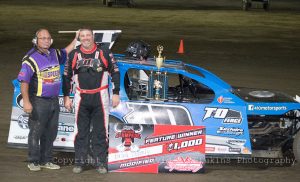 "When you run with guys like Jeff Taylor, who has been doing this for so long, it makes you feel pretty good," said Doherty.
Their wins put both drivers on the Fast Shafts All-Star Invitational ballot. The Stampede marked the first two of nine events for newly-sanctioned IMCA Modifieds this season at Ardmore.
Wilson, Gould and Jeffrey Abbey were next across the stripe.
Westin Abbey was the opening night IMCA Sunoco Stock Car winner, ahead of Kirk Martin and Mike Brown.
Continuing his quick start to the season, Dean Abbey scored the Saturday checkers with Cary White and Martin in pursuit.
Tyler Honeywell was promoted to the top spot in Friday's Smiley's Racing Products Southern SportMod main after the apparent winner was disqualified in post-race tech. Chase Vineyard was second and Tyler Fain was third.
Raymond Hoedebeck rules the SportMods on Saturday. Rounding out the top three were Kyle Robinson and Rodney White.
Chris Kelly and Joe Wood Jr. won Sprint Series of Oklahoma main events.
March 9 Feature Results
Modifieds –1. Brad Doherty; 2. Jeff Taylor; 3. Spencer Wilson; 4. William Gould; 5. Chris Bragg; 6. Tommy Fain; 7. Curtis Allen; 8. Justin McCoy; 9. Mike VanGenderen; 10. Bryan Schutte; 11. Trevor Geter; 12. Dennis Pittman; 13. Brendon Gemmill; 14. Kevin Sustaire; 15. Mike Hansen; 16. Riley Simmons; 17. Jeffrey Abbey; 18. Randy Havlik; 19. Nick Roberts; 20. Tyson Henson; 21. Matt Guillaume; 22. Drew Armstrong; 23. Shane Clement; 24. Kyle Whitworth.
Stock Cars – 1. Westin Abbey; 2. Kirk Martin; 3. Mike Brown; 4. Billy Lantrip; 5. A.J. Dancer; 6. Gary Williams; 7. Aaron Spangler; 8. Cary White; 9. Buryl Norris; 10. Caleb Crenshaw; 11. Bran­don Smith; 12. Michael Attebury; 13. Joe Hofbauer; 14. Tyler Scruggs; 15. Frankie Hendershot; 16. Shelby Williams; 17. Bobby Miller; 18. Scott Allen; 19. Jackie Watterson.
Southern SportMods – 1. Tyler Honeywell; 2. Chase Vineyard; 3. Tyler Fain; 4. Travis Penrod; 5. Dustin Robinson; 6. Tate Butler; 7. Raymond Hoedebeck; 8. Terrell Evans; 9. Matt Beasley; 10. Kyle Robinson; 11. David Bolf; 12. Curtis Martin; 13. Tommy Dove; 14. Payton Zentgraf; 15. Koby Adams; 16. Cullen Hill; 17. Russell Brundidge; 18. Aaron Alley; 19. Josh Short; 20. Walter Beaty; 21. James Skinner; 22. Scottie Kelton; 23. Charles Baggett.
March 10 Feature Results
Modifieds – 1. Taylor; 2. Roberts; 3. Gould; 4. Abbey; 5. Armstrong; 6. McCoy; 7. Doherty; 8. Fain; 9. VanGenderen; 10. Simmons; 11. Whitworth; 12. Allen; 13. Havlik; 14. Bragg; 15. Brent Hartwick; 16. Michael Ables; 17. Guillaume; 18. Troy Girolamo; 19. Jason Hillard; 20. Hansen; 21. Gemmill; 22. Sustaire; 23. Wilson; 24. Britton Weger.
Stock Cars – 1. Dean Abbey; 2. White; 3. Martin; 4. Henderhot; 5. Westin Abbey; 6. Crenshaw; 7. Dancer; 8. Brown; 9. Lantrip; 10. Miller; 11. Norris; 12. Attebury; 13. Allen; 14. Shelby Williams; 15. Hofbauer; 16. Gary Williams; 17. Spangler; 18. Watterson.
Southern SportMods – Southern SportMods – 1. Hoedebeck; 2. Kyle Robinson; 3. Rodney White; 4. Dove; 5. Martin; 6. Ev­ans; 7. Chris Linares; 8. Jimmy Day; 9. Hill; 10. Mitchell Henson; 11. Dustin Robinson; 12. Bolf; 13. Casey Smith; 14. Adams; 15. Beasley; 16.  Zentgraf; 17. Alley; 18. Devin Chambers; 19. Baggett; 20. Fain; 21. Beaty; 22. Kelton; 23. Vineyard; 24. Harvey Watterson; 25. Brundidge; 26. Brandon Watson.