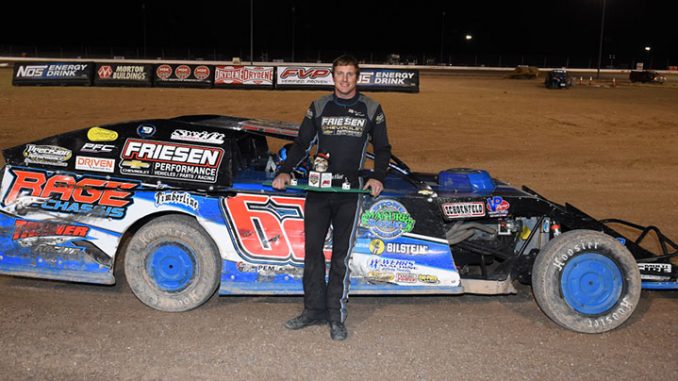 LAS VEGAS, Nev. (Feb. 27) – Hunter Marriott worked his way up from the 10th starting spot to take the $1,000 checkers at Las Vegas Motor Speedway's midweek special for IMCA Modifieds. 
Marriott passed Travis Peery for the lead just after halfway in the Dirt Track 20-lapper.
"It's cool," Marriott said following his first sanctioned win of the season and career 56th in the divi­sion. "I love coming to Vegas and I enjoy racing here."
Marriott was already on the ballot for the Fast Shafts All-Star Invitational. He's the defending win­ner of that event.
Logan Drake, Peery, Austin Kiefer and Cody Laney rounded out the top five Wednesday at LVMS.
Feature results – 1. Hunter Marriott; 2. Logan Drake; 3. Travis Peery; 4. Austin Kiefer; 5. Cody Laney; 6. Kollin Hibdon; 7. Jake Pike; 8. Joey Price; 9. Brad Hopkins; 10. Chad Reichenbach; 11. Ron Moser; 12. Don Martin; 13. Jason Pike; 14. Justin Miller; 15. D.J. Shannon; 16. Joey Olschowka.