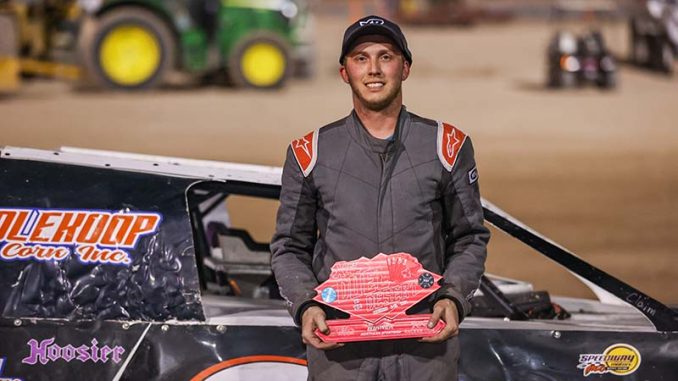 LAS VEGAS, Nev. (Nov. 12) – The first two IMCA champions at the 24th annual Karl Chevrolet Duel in the Desert were crowned Friday at The Dirt Track at Las Vegas Motor Speedway as Logan Anderson and Zack Forster took home titles.
Anderson won the Karl Kustoms Northern SportMod title and $5,000 while Forster won the first-ever STARS Mod Lite championship and $1,500.
Jorddon Braaten joined Anderson on the front row of the Northern SportMod grid. Anderson built a four second lead in the first 11 laps of the race but his advantage was erased by the first caution of the main event.
A multi-car tangle on the restart sidelined several contenders including Chase Alves and Brett Berry. Alves had climbed from 10th to fourth place.
Anderson remained unchallenged in the final 10 laps of the race, leading wire-to-wire for the victory. Dylan VanWyk, Matt Sanders, Braaten and Danny Concelman completed the top five.
Forster and Randy Bryan led the field to the green in the 20-lap STARS Mod Lite championship feature.
Following a caution on the initial start, Forster jumped out to the lead on the restart and built a seven-second lead in the next 17 laps, all running green-flag. A caution with three laps to go gave Riley Clem a shot at the win as he moved from third to second on the restart.
Forster held off Clem in the final two laps to win the race. Clem failed post-race inspection and was relegated to the 15th-and-final finishing position. Darrick Knutsen, Sean Conyers and Collin Bender completed the top five.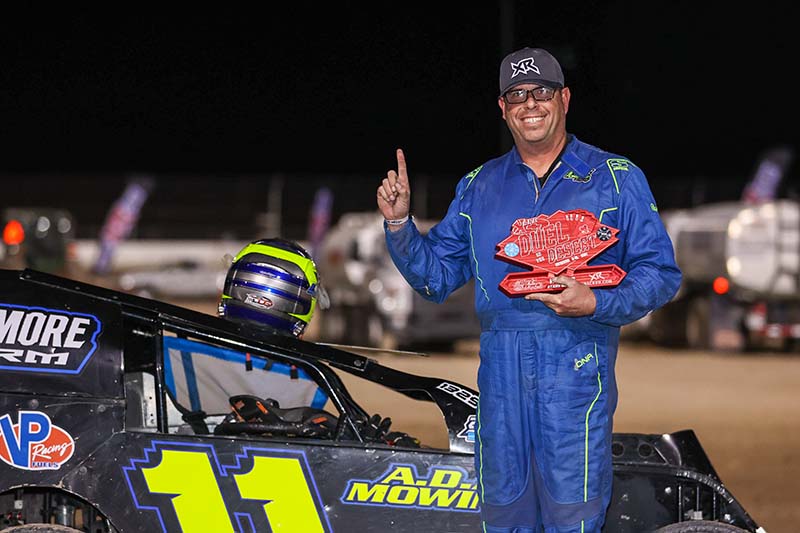 Winner of the first-ever feature for IMCA STARS Mod Lites at the Duel in the Desert was Zack Forster. (Photo by Michael Boggs/Speedway Shots)
Feature Results
Northern SportMods – 1. Logan Anderson, Eddyville, Iowa; 2. Dylan VanWyk, Oskaloosa, Iowa; 3. Matt Sanders, Brookings, Ore.; 4. Jorddon Braaten, Central Point, Ore.; 5. Danny Concelman, Colorado Springs, Colo.; 6. Tyler Bannister, Bakersfield, Calif.; 7. Brian Baker, Bakersfield, Calif.; 8. Ryan Peery, Yreka, Calif.; 9. Joe Docekal, Dysart, Iowa; 10. Tommy Fraser, Antioch, Calif.; 11. Jason Bannister, Bakersfield, Calif.; 12. Nathan Rolfe, Atwater, Calif.; 13. Randy Miller, San Jose, Calif.; 14. Matthew Mayo Jr., Bakersfield, Calif.; 15. Robert Miller, Gardnerville; 16. Luke Silber, Laveen, Ariz.; 17. Taylor Kuehl, Cave Creek, Ariz.; 18. Chase Alves, Casa Grande, Ariz.; 19. Brett Berry, Hays, Kan.; 20. Logan Veloz, Colona, Ill.; 21. Arie Schouten, Omaha, Neb.; 22. Cole Suckow, Cresco, Iowa; 23. Mitch Boesel, Aurora, Colo.; 24. Kaylin Lopez, Marshalltown, Iowa.
STARS Mod Lites – 1. Zack Forster, Bakersfield, Calif.; 2. Randy Bryan, Ames, Iowa; 3. Darrick Knutsen, Atkins, Iowa; 4. Sean Conyers, Phoenix, Ariz.; 5. Collin Bender, Mesa, Ariz. 6. J.D. Brown, Bakersfield, Calif.; 7. Steve Bender, Chandler, Ariz.; 8. Tim Varney, Bakersfield, Calif.; 9. Gary DeWitt, Mesa, Ariz.; 10. Mike Schmidt, Gilbert, Ariz.; 11. Michael Phay, Buckeye, Ariz.; 12. Brandi Myers, Mesa, Ariz.; 13. Candi Varney, Bakersfield, Calif.; 14. Brian Schmidt, Gilbert, Ariz.; 15. Riley Clem, Bakersfield, Calif.