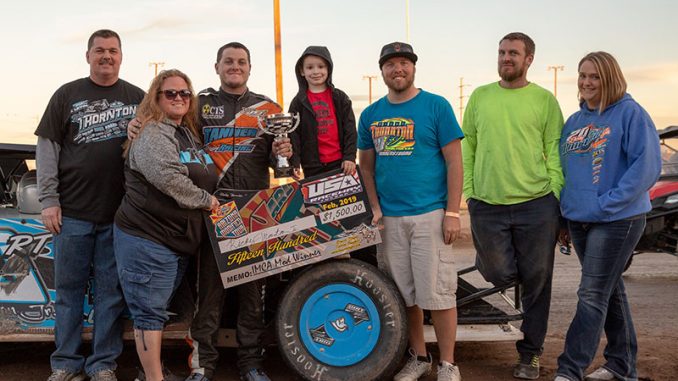 By Jackson Braun
CASA GRANDE, Ariz. (Feb. 10) – While day racing at the Central Arizona Speedway brought a completely different dynamic to the plate, the driver in victory lane following Sunday's Arizona Mod Tour main event was celebrating a second straight victory.
A familiar face returned to the winner's circle as Ricky Thornton Jr. grabbed his fourth career tour win, tying him with Hunter Marriott for the most overall wins in the third running of the tour.
Also the $1,500 winner Saturday at Arizona Speedway and a Fast Shafts All-Star Invitational ballot qualifier six times over, Thornton used his outside starting spot to grab the lead early. Clint Reichenbach, who had faced struggles at Queen Creek, used his fourth place spot on the starting grid to catapult himself into 2nd early on.
Jake O'Neil worked his way past Reichenbach and set his sights on Thornton. Thornton had a comfortable cushion once he reached lapped traffic and once again was able to maneuver very efficiently.
For the second night in a row, the Modified feature went green to checkered. Thornton led wire-to-wire and claimed victory once again, as O'Neil once again fell one spot short. Reichenbach, Casey Arneson, and Jason Noll completed the top five.
In the Karl Chevrolet Northern SportMods, Saturday winner Jake McBirnie and Jim Horejsi paced the field to green.
On the first attempt, Horejsi jumped the cushion in turns 1 and 2, but was saved by a caution occurring elsewhere on the track. Horejsi used the high line around the track to shoot out to the lead.
In a caution-slowed race, Horejsi was able to maintain the lead comfortably before McBirnie almost made another shocking last-moment pass, but Horejsi was able to hold him off and secure the win.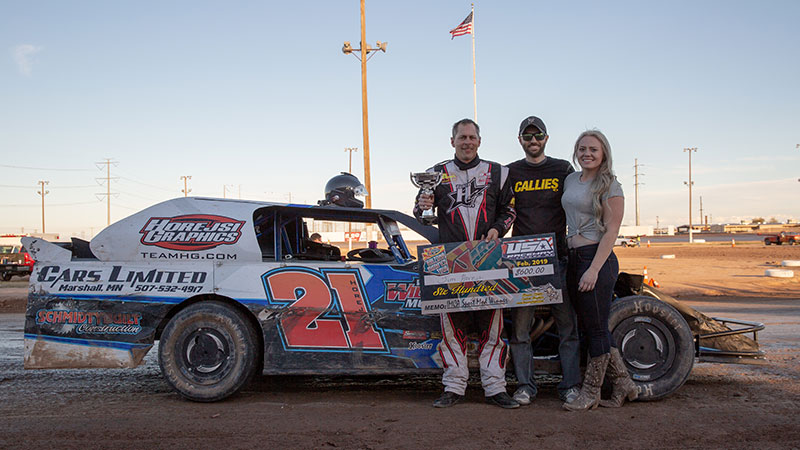 Horejsi made the 1,600-mile trip from his home in Minnesota to Arizona. A veteran of 30-odd seasons, he'd purchased a used 2016 B & B Chassis last fall and spent the off-season getting ready for the tour.
"Winning was a dream come true," Horejsi said. "Doing something like this has been on my bucket list for about 30 years."
Feature Results
Modifieds – 1. Ricky Thornton Jr., Clive, Iowa; 2. Jake O'Neil, Tucson; 3. Clint Reichenbach, Santa Maria, Calif.; 4. Casey Arneson, Fargo, N.D.; 5. Jason Noll, Peoria; 6. Collen Winebarger, Corbett, Ore.; 7. Jeff Larson, Freeport, Ill.; 8. Nick O'Neil, Tucson; 9. Eddie Kirchoff, Gillette, Wy.; 10. Shawn Strand, Mandan, N.D.; 11. Hunter Marriott, Brookfield, Mo.; 12. Justin Kay, Wheatland, Iowa; 13. Zachary Madrid, Tucson; 14. Jeff Taylor, Cave City, Ark.; 15. Kollin Hibdon, Pahrump, Nev.; 16. Brint Hartwick, Quitman, Ark.; 17. Drew Armstrong, Benton, Ark.; 18. Clay Money, Penokee, Kan.; 19. John Hansen, Brush, Colo.; 20. Dylan Goplen, Fargo, N.D.; 21. Joey Price, Great Falls, Mont.; 22. Tim Ward, Harcourt, Iowa; 23. Austin Kuehl, Cave Creek; 24. Cody Laney, Torrance, Calif.; 25. D.J. Shannon, Merced, Calif.; 26. Robert Hellebust, Minot, N.D.
Northern SportMods – 1. Jim Horejsi, Marshall, Minn.; 2. Jake McBirnie, Boone, Iowa; 3. Kelly Jacobson, Fargo, N.D.; 4. Ethan Braaksma, Newton, Iowa; 5. Brady Bjella, Williston, N.D.; 6. Fred Ryland, Brentwood, Calif.; 7. Chase Rudolf, Prole, Iowa; 8. Keith Brown Jr., Pittsburg, Calif.; 9. Kevin Johnson, Bakersfield, Calif.; 10. David Jones, Chandler; 11. Andy Clower, Laveen; 12. Mark Harrison, Coolidge; 13. Ty Rogers, Somerton; 14. Ryan Moser, Englewood, Colo.; 15. Cole Carver, Apache Junction; 16. Jarrod Mounce, Atwater, Calif.; 17. Tate Johnson, Homestead, Mont.; 18. Dwayne Melvin, Medford, Ore.; 19. Terry Bahr, Gilbert; 20. Heath Dry, Phoenix; 21. Arie Schouten, Blair, Neb.; 22. Chuck Delp, Rock Springs, Wy.; 23. Brian Osantowski, Columbus, Neb.; 24. Matt Mayo, Bakersfield, Calif.; 25. Bryan Moreland, Durango, Iowa.