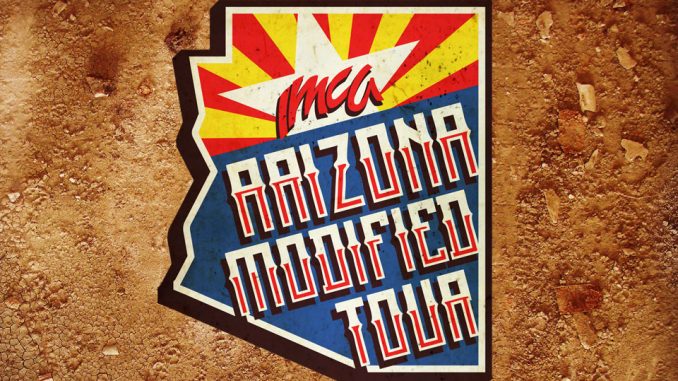 QUEEN CREEK, Ariz. – One hundred and seventy drivers are on the pre-entry list for the Feb. 7-16 IMCA Arizona Modified Tour. 
Arizona Speedway at Queen Creek hosts Friday and Saturday, Feb. 8 and 9 events. The tour is at Casa Grande's Central Arizona Speedway for Sunday and Monday, Feb. 10 and 11 shows and at Canyon Speedway Park in Peoria on Wednesday, Feb. 13. USA Raceway in Tucson is the site of Friday and Saturday, Feb. 15 and 16 programs.  
IMCA Modifieds race for $1,500 to win while Karl Chevrolet Northern SportMods chase $600 top checks each night. All seven Modified features are 2019 Fast Shafts All-Star Invitational ballot qualifying events and pay a minimum of $150 to start. Northern SportMod features pay a mini­mum of $60 to start.
IMCA Speedway Motors Weekly Racing National, state and special series points will be given in both divisions; Modifieds also vie for Larry Shaw Race Cars Western Region points. Entry fees each night of the tour will be $40 for Modifieds and $30 for Northern SportMods.
Practice nights are Feb. 7 at Queen Creek, Feb. 12 at Peoria and Feb. 14 at Tucson.The tour will be broadcast by IMCA.TV. More information is also available on Facebook.
Pre-entered Modified drivers include:
Rick Akers, Tucson; Russell Allen, Brawley, Calif.; Paris Archie, Sparks, Nev.; Drew Armstrong, Benton, Ark.; Casey Arneson, Fargo, N.D.; Dan Aune, Taylor, N.D.; Tim Balding, Prunedale, Ca­lif.; Bradie Becker, Burt, Iowa; Chris Bragg, Springtown, Texas; John Brammer, Momence, Ill.;
Mike Brandon, Tucson; Eric Center, Mesa; and Jim Cocks, Red Deer, Alb.
Casey Delp, Rock Springs, Wy.; Shane DeMey, Denison, Iowa; Travis Denning, Sterling, Ill.; K.C. Dieckman, Surprise; Ethan Dotson, Bakersfield, Calif.; J.P. Dowell, Killeen, Texas; Logan Drake, San Luis Obispo, Calif.; Garth Dushanek, Red Deer, Alb.; Adam Fischer, Kindred, N.D.; Kelsie Foley, Tucson; Joey Franklin, Las Vegas, Nev.; and Jeremy Frenier, Fort Morgan, Colo.
Isaiah Geisel, Torquay, Sask.; Don Geist, Burlington, Colo.; Alex Gonzalez, El Paso, Texas; Dylan Goplen, Fargo, N.D.; Chuck Grohnke, Gilbert; Don Gumke, Jamestown, N.D.; John Han­sen, Brush, Colo.; Derek Hanson, Britton, S.D.; Brint Hartwick, Quitman, Ark.; Delos Haugen, Burling­ton, N.D.; Robert Hellebust, Minot, N.D.; and Rolls Royce Henry, El Cajon, Calif.
Kollin Hibdon, Pahrump, Nev.; Todd Hoff, Mott, N.D.; Bobby Hogge IV, Salinas, Calif.; Austin Howes, Quincy, Ill.; A.J. Huebner, Tucson; Darrell Hughes II, Manteca, Calif.; Jason Hughes, Watts, Okla.; Jeff Hunter, Henderson, Colo.; Bricen James, Albany, Ore.; Tim Jauhola, Stanfield; Gregory Jelvik, Tucson; and Justin Kay, Wheatland, Iowa.
Eddie Kirchoff, Gillette, Wy.; Austin Kuehl, Cave Creek; Cody Laney, Torrance, Calif.; Jeff Larson, Freeport, Ill.; Bryan Ledbetter Jr., Apache Junction; Mike Lineberry, Fremont, Neb.; Ross McCart­ney, Lahoma, Okla.; Dalton McKenney, Clarksville, Mo.; Les McLenehan, Estevan, Sask.; Ray­mond McSpadden, Buda, Texas; Zachary Madrid, Tucson; and Lance Mari, El Centro, Calif.
Hunter Marriott, Brookfield, Mo.; Jim Mathieson, Sioux City, Iowa; Tyler Mecl, Queen Creek; Adam Mendoza, Safford; Bill Miller, Yuma; Jimmy Mills, Queen Creek; Clay Money, Penokee, Kan.; Bob Moore, Sioux City, Iowa; Skylar Mortensen, Las Vegas, Nev.; Marvin Mueller, Yuma; Joe Mullins, Erie, Colo.; and Jason Noll, Peoria.
Travis Olheiser, Dickinson, N.D.; Jake O'Neil, Tucson; Nick O'Neil, Tucson; Jacob Pace, Kearny; Andy Papp, Guatay, Calif.; Jesse Patterson, Tucson; Brian Pearce, Oakley, Calif.; Freddie Plourde, Santa Rosa, Calif.; Joey Price, Great Falls, Mont.; Clint Reichenbach, Santa Maria, Ca­lif.; Ryan Roath, Peoria; and Duane Rogers, Imperial, Calif.
Josh Rogotzke, Sanborn, Minn.; Anthony Roth, Columbus, Neb.; Larry Sanders, Quinlan, Texas; Brent Schlafmann, Bismarck, N.D.; Kody Scholpp, Estevan, Sask.; Marlyn Seidler, Underwood, N.D.; D.J. Shannon, Merced, Calif.; Aaron Sheelar, Springfield, Ore.; Riley Simmons, Susanville, Calif.; Scott Sluka, Casa Grande; and Anthony Smith, Marana.
Brett Smith, Merino, Colo.; Josh Sneed, Sun City; Rick Spencer, Tucson; Sean Stacy, Kearny; Bubba Stafford, Wittmann; Robert Starns, Coolidge; Paul Stone, Winton, Calif. Shawn Strand, Mandan, N.D.; Stephen Streeter, Madera, Calif.; Jeff Taylor, Cave City, Ark.; and Ricky Thornton Jr., Clive, Iowa.
And Robert Townsend Jr., Marana; Charles VanZandt, Camp Point, Ill.; Tristan Vesterby, Web­ster City, Iowa; Tim Ward, Harcourt, Iowa; Nate Warren, Phoenix; Lance White, Queen Creek; Spencer Wilson, Minot, N.D.; Kenny Wyman Jr.; Peoria; and Kirby Zielinski, Bluffton, Alb.

Pre-entered Northern SportMod drivers are:
Blake Bailey, Bunkerhill, Ill.; Austen Becerra, Carthage, Ill.; Adam Birck, Canton, Mo.; Brady Bjella, Williston, N.D.; Ethan Braaksma, Newton, Iowa; Keith Brown Jr., Pittsburg, Calif.; Dave Burt, Surprise; Cole Carver, Apache Junction; Robby Claborn, Santa Maria, Calif.; Andy Clower, Laveen; and Doff Cooksey, Brentwood, Calif.
Drew Costa, Gilbert; Chuck Delp, Rock Springs, Wy.; Wayne Dotson, Bakersfield, Calif.; Heath Dry, Phoenix; Michael Egurola Jr., Tucson; Eric Folstad, Glenburn, N.D.; Dennis Gates, Claypool; Mark Harrison, Coolidge; Jerry Hislop, Vernal, Utah; and Jim Horejsi, Marshall, Minn.
Sean Isaacks, Tucson; Kelly Jacobson, Fargo, N.D.; Brandyn Johnson, Mesa; Kevin Johnson, Bakersfield, Calif.; Tate Johnson, Homestead, Mont.; David Jones, Chandler; Taylor Kuehl, Cave Creek; Jake McBirnie, Boone, Iowa; Rene Madrid, Avondale; Speedy Madrid, Laveen; and Matt Mayo, Bakersfield, Calif.
Matthew Mayo, Bakersfield, Calif.; Dwayne Melvin, Medford, Ore.; Bryan Moreland, Durango, Iowa; Ryan Moser, Englewood, Colo.; Jarrod Mounce, Atwater, Calif.; Brian Osantowski, Colum­bus, Neb.; Shane Paris, Muscatine, Iowa; Austin Paul, Monroe, Iowa; Michael Phay, Buckeye; David Pitt, Rock Springs, Wy.; and Chase Rudolf, Prole, Iowa.
Ty Rogers, Somerton; Matt Ruf, Grand Junction, Colo.; Fred Ryland, Brentwood, Calif.; Patti Ryland, Brentwood, Calif.; Arie Schouten, Blair, Neb.; Steve Shumaker, Peoria; Shane Simper, Vernal, Utah; Justin Svoboda, David City, Neb.; Ty Weidner, Chandler; and T.J. Wyman, Laveen.